Subject Area: Pro Level Spare Parts Management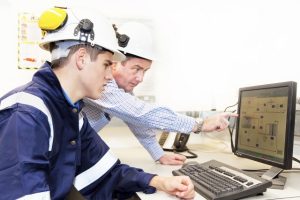 Our Pro Level provides you with an 'All Access Pass' to SparePartsKnowHow.com
With access to all our key resources, a Pro Level membership will equip you with the know-how and skills to become a 'thought leader' in spare parts inventory management.
Join the Pro Level Program
This membership will equip you with:
Certainty about your decision-making.
The confidence that you are doing what's required to deliver the results you need.
Improved critical thinking and problem solving skills in spare parts inventory management.
Access to resources only available to this level.
---
Solving many spare parts inventory problems requires more than just foundational know-how.
---

Have you found that understanding the basics is not enough to solve a wide range of spare parts management problems?
Despite being active online you can't find 'real world' information and insight that covers the range of issues that you face.
You can't easily evaluate existing spare parts management policies or develop policies that really work.
You waste time trying to determine solutions or narrow down options for spare parts inventory optimization.
You find that truly independent advice is hard to find.

Joining the Pro Level means that you will know the right questions to ask, where to find the answers, and what works best to get results.
Once you have a firm grounding in spare parts management, via our Advanced Spare Parts Management Course (included with the Pro Level), you can explore solutions to your specific issues.
Solve a wider range of problems with access to an extensive range of content not included in the Advanced Course.
Save time in policy development with access to our policy templates.
Save money by making the right process choice for optimization of your inventory.
Streamline the procurement of optimization software using our webinar and eBook resources.
Save time and money by making the best use of vending machines in your business.
Reduce downtime by improving parts availability with our guide to achieving 100% inventory accuracy.
---
---
The Advanced Spare Parts Management Program literally changed my career path
Jozef Ferenc
Lear Corporation
I really enjoyed this training, it gave me a new perspective on inventory management
Pieter Janssens
Longveld
Your material and presentation is very clear and easy to understand and I have learned so much.
Denise Garner
Haarslev
My Success story in APM Terminals Stores Management is not complete without mentioning SparePartsKnowHow.com.
Ateiza Ilyas
APM Terminals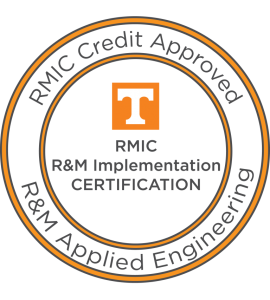 SparePartsKnowHow.com is an
approved training partner
with the Reliability and Maintainability Center at the University of Tennessee, Knoxville.

Click here to see the type of companies that have joined SparePartsKnowHow.com.

---
---
An 'All Access Pass' to SparePartsKnowHow.com

Based on decades of experience in working with, consulting to, and training thousands of people in 38 countries Phillip Slater developed the blueprint for what you need to know to effectively and efficiently manage spare parts inventory.
By joining our Pro Level you get acesss to everything!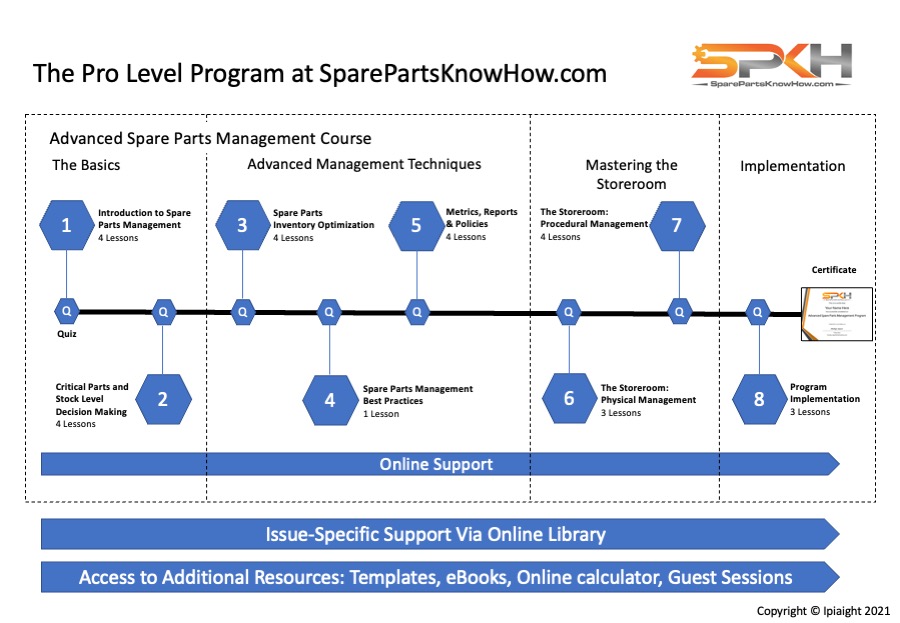 ---
Structured Training
---

Our Advanced Spare Parts Management Course
This is our flagship self-paced online training course.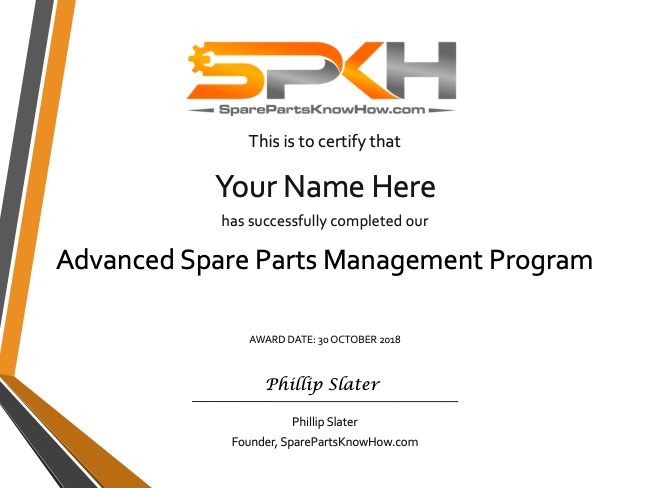 With 8 training modules (as per the blueprint above) this course covers all aspects of spare parts management.
Successful completion qualifies you for our Advanced Certificate (pictured).
This requires you to pass a series of quizzes, we don't just give this out for 'showing up'!
Read more about the Advanced Spare Parts Management Course >>>

---
Online Support
---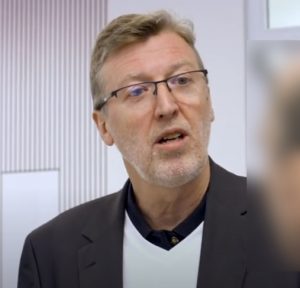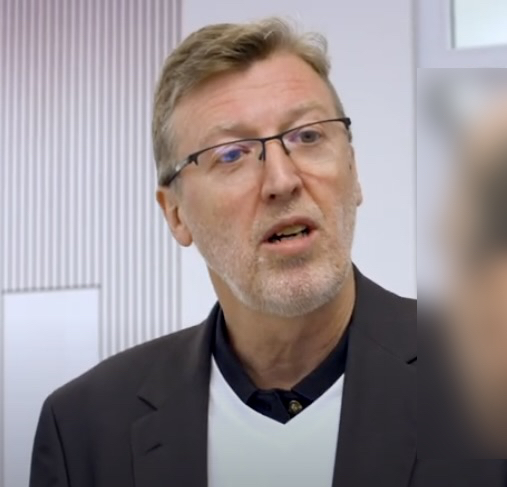 Exclusive and live monthly Q&A with Phillip Slater
Pro Level members get access to a monthly, live, one-on-one, spare parts management Q&A with Phillip Slater.
These sessions are strictly 'by appointment' and are scheduled using our online booking system.
Generally, they are held on the second Monday or Tuesday of each month, depending on where you are in the world.
This is your opportunity for a personal one-on-one session with Phillip, every month.


Online Email Support
What if you can't wait for the next session or can't attend a live session?
No problem, we provide additional support via email.
If you have a question about anything relating to the application of our content then you can use this form to email us your questions. We will provide a prompt response guiding you to the right answer.

---
Additional "Thought Leadership" Resources
---

Exclusive online resource library – 24/7 access to +300 white papers, articles, videos and podcast files contained in our exclusive 'Know-How Center' and structured in an easy-to-find system that replicates the spare parts management life cycle. Only available to Pro Level members.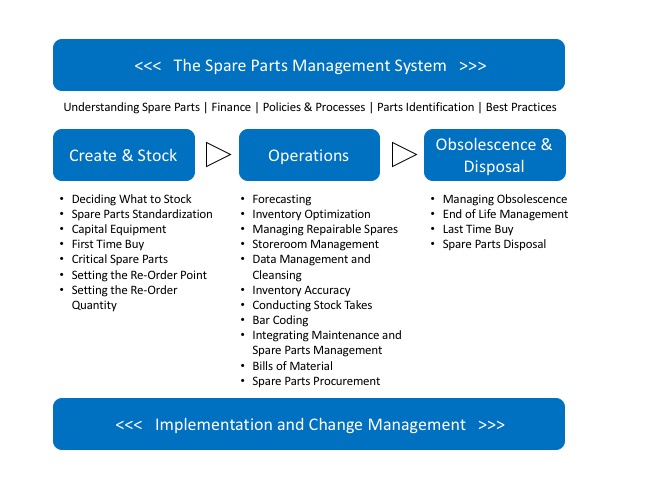 Our searchable blog archive containing a further +300 posts of articles and videos, with new content being posted monthly. This is sorted by category, making it easy to find articles of interest.

Access to our Spare Parts Glossary.

Policy templates – downloadable copies of our exclusive policy templates.

Online ROP calculator – a quick and easy way to review the validity of day-to-day stock holding decisions.

Spare Parts Management Guides, including:
Inventory Optimization Software Selection
Procurement Outsourcing for MRO and Indirect Materials
40 Key Lessons for Spare Parts Inventory Management and Optimization

Webinar Recordings, including:
How to Select the Right Inventory Optimization Software
Spare Parts Inventory Webinar: 7 Things Every Senior Manager Must Know
Procurement Outsourcing of Indirect Materials
Mastering Spare Parts Management Meetings – Part 1
Mastering Spare Parts Management Meetings – Part 2

eBook: The What, Why and How of Industrial Vending Machines – a complimentary copy of our special report.

eBook:The Optimization Trap – a complimentary copy of the ebook.

Additional ebooks – available via the Pro Level home page.

---
12 months access from the date of registration.
---
To download information on the Pro Level Membership Program, complete the form below and we will send you a PDF link.
---
Consider where you are today and think for a moment what you could achieve with our help."
Phillip Slater, Founder, SparePartsKnowHow.com
Book a time
to discuss if the Pro Level Spare Parts Management Program is right for you.
---
What happens when you join?
---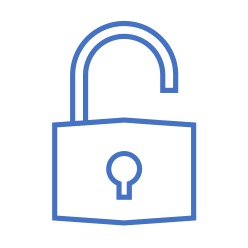 All content is unlocked and available immediately.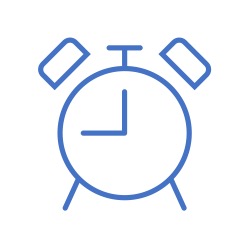 You can 'binge' the content all at once or spread it out – it is completely up to you how to pace your training.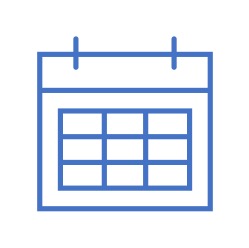 You get unlimited access to all content for 12 months – allowing you to refresh your knowledge when you need to.
---
How to Join Our Pro Level Program
---
Individuals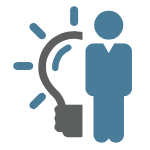 Please note that SparePartsKnowHow.com principally addresses inventory management for MRO and spare parts held for maintenance and operations support.
Pro Level investment: a single payment of
US$1,990.00 for 12 months access.
(Less than the cost of a conference or public workshop!)
For peace of mind we use the secure payment system at Stripe.
Pay now and start todayClick Here


We invite you to review our terms and conditions before signing up.

---
Want to Sign up the Whole Team?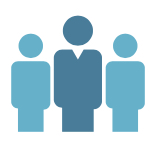 Contact us for special pricing and alternative payment options.
Please contact us to discuss.