The Advanced Spare Parts Management Program literally changed my career path
Jozef Ferenc
Lear Corporation
I really enjoyed this training, it gave me a new perspective on inventory management
Pieter Janssens
Longveld
This was the first time that I've seen something that can be practically applied on a daily basis by almost anyone and without the need for expensive software.
Probin Konwar
QAFCO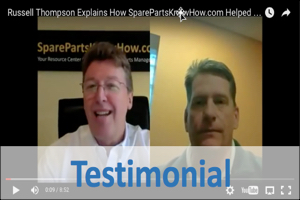 Follow this link to watch a video testimonial
featuring Russell Thompson.


---
This course opened my eyes to a lot of things.
Moses Padi | Centralized Warehousing | United Nations Support
---
It is hard to find classes that go into this detail. As someone who does not have experience with managing spare parts, it quickly becomes overwhelming.
I now have a supply room policy, a procedure manual (detailed instructions) which includes a planned approach for adding stock and reviewing stocking levels and a plan for removing obsolete parts.
Sondra Carroll | Manager-Supply Room Solutions | Shaw Industries Group
---
I was really impressed with the material and content of the class. I learned a great deal and am working on applying that knowledge.
Jason Ashby | MRO Buyer | The Shepherd Color Company
---
I take this opportunity to thank you for this powerfully crafted course. The material and presentation were efficiently structured. The conceptual clarity accomplished by using very simple language, by no means simplistic. The learning experience was profound.
Khalid Majeed | Assistant Purchasing Manager | Shandong Electric Power
---
Your material and presentation is very clear and easy to understand and I have learned so much. I wasn't trained to manage an inventory but have grown into this position.
Denise Garner | Spare Parts Manager Customer Care Group | Haarslev
---
My Success story in APM Terminals Stores Management is not complete without mentioning Phillip Slater and SparePartsKnowHow.com. He has put together one of the best guides to inventory management. It is systematic compilation that has everything you need for success.
Ateiza Ilyas | Stores Manager | APM Terminals
---
There is material here that you won't find anywhere else.
If you are involved in spare parts and materials for operations and maintenance you would be mad not to take advantage of this resource.
Adrian Hanrahan | Spare Parts Management Specialist in Oil & Gas
---
Phillip Slater's online training program helped my team to better understand the complexities of spare parts management, the application of policies, and the importance of maintenance engagement.
We would recommend Phillip for anyone looking to expand their understanding and skills with spare parts management.
Askar Andirov & Sabit Trumov | Spare Parts Superintendents | Karachaganak Petroleum
---
I have received training from Phillip Slater and then implemented the Inventory Cash Release Process with excellent results. There is no doubt that Phillip is the global spare parts guru.
Julian Gonzalez | Manager of Distribution | Coats plc
---
Phillip Slater helped us to transform our engineering stock holding and we've reduced stock holding significantly and increased availability. I would happily recommend Phillip for any spare parts related projects.
Ian Maitland | Head of Global Engineering | Coats plc
---
QAFCO engaged Phillip to both train a cross section of personnel in spare parts management techniques and help us develop spare parts management philosophy documentation.
I can summarize my opinion about his deliverance of the objectives as simply brilliant and practical and his ability to train people is extraordinary.
Ali Abrar | Lead Support Engineer – Rotating Machinery | QAFCO
---
We have used the services of Phillip to train maintenance, procurement, planning and warehouse personnel in spare parts management.
It was his distinctive logical approach in setting spare parts holding levels that really won over the participants in the workshop. This was the first time that I've seen something that can be practically applied on a daily basis by almost anyone and without the need for expensive software.
Probin Konwar | Head of Maintenance Planning | QAFCO
---
I want to compliment Phillip Slater on the professionalism, ease of understanding and practicality of the modules. SparePartsKnowHow.com is of a world class standard and suitable for any industry in the world.
Ernie Thaver | Supply Demand Manager | Sasol Mining
---
Phillip is a highly experienced practioner who's insights provide excellent discussion points for all your inventory questions.
Nigel Shepherd | Procurement and Contracts Coordinator | Yancoal Australia
---
Phillip Slater's boot camp provided all of us with hand on experience in techniques and tools to use to consistently identify and better manage spare parts inventory.
---
I predict that our stock reduction will be about 30% but the absolute figure is less interesting than the confidence that I have now that the stock that remains is moving and necessary in the current situation.
Andre Randsdorp | Purchasing Manager | RIOR BV/Rioned
---
Phillip and his website www.SparePartsKnowHow.com has been a great resource for me and my team.
We have enjoyed his insight and years of experience to help guide activities and streamline our business to become an efficient spare parts operation that supports maintenance and engineers. Another great thing about Phillip is his availability.
If you manage MRO materials, you should subscribe to SparePartsKnowHow.com right away. You can thank me later.
Russ Thompson | Corporate MRO Inventory/Purchasing Manager | Idahoan Foods
---
It was great to work with Phillip Slater for one of my conferences where I invited him as a keynote speaker. Phillip is a consummate professional with great caliber. He is a renowned subject matter expert in Spare Parts Inventory Management and has rich experience in a wide range of industries. Phillip's keynote address was one of the most comprehensive sessions and was greatly appreciated by the audience. He is an excellent communicator with an inherent ability to capture the attention of the audience.
Ruchi Nema | Senior Conference Producer | Fleming Gulf
---
We are pleased to have chosen Mr. Slater as winner of the 2012 Kim Rothwell Leadership in Logistics Education Award.
We wanted to recognize Mr. Slater not only for his work as a consultant and author in spare parts and inventory management but also for his contributions as a leader in the application of digital technology to supply chain and inventory management issues and solutions.
Through his establishment of SparePartsKnowHow.com, Mr. Slater has become a digital pioneer in his pursuit of educating others about spare parts and inventory management
Jo Baker | Executive Manager | Logistics Association of Australia
---

Our Spare Parts Management Online Boot Camp is an intensive, instructor led, 100% online, group or team training program that teaches participants the fundamentals of spare parts inventory management.
To learn more CLICK HERE