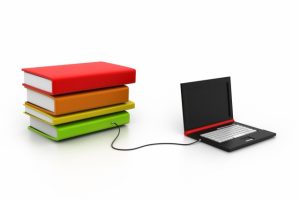 Each section of our Spare Parts Management Resources Library – we call it the Know-How Center – includes a selection of videos, white papers, articles, podcasts, and presentations relating to that subject area.




To make it easy to navigate, the Know-How Center is segmented according to the spare parts management life cycle, as shown in the diagram below.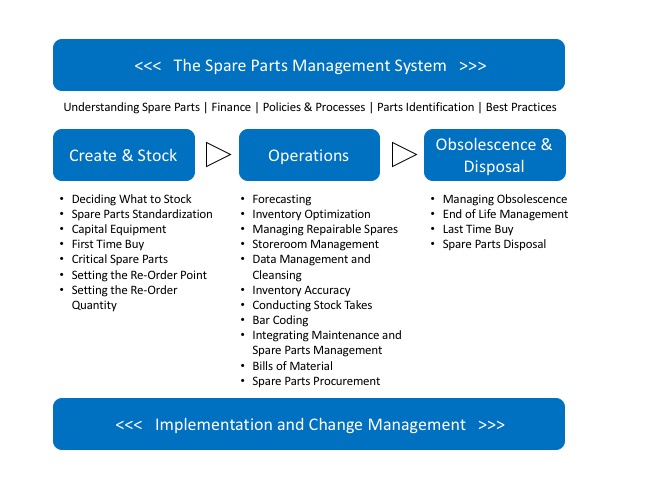 Please note: Access to our Spare Parts Management Resources Library is restricted to Pro Level members.
---
The Spare Parts Management System
---
This section of the spare parts management resources library provides access to resources to help guide the activity and decision making throughout the life cycle of the spare parts held in inventory.
Go to the Spare Parts Management System section >>>

Read more
It is vital that the people engaged in establishing your system understand spare parts management, not just supply chain or generic inventory management.
The other key considerations in the phase are: understanding the financial implications, developing polices and processes that provide the framework for action, and establishing robust parts identification systems.
In addition, an understanding fo best practices will help ensure that you are working from established practices that deliver the best outcomes.
Key topic ares include:
Understanding Spare Parts Management
Financial Considerations
Metrics and Reporting
Policies and Procedures
Parts Identification
Best Practices
---
Create and Stock
---
This section of the spare parts management resources library starts with addressing the two most important decisions in spare parts inventory management: whether or not to stock an item, and how many to stock.
Go to the Create and Stock section >>>

Read more
It is these decisions that determine if you have the stock that you need and how much money you spend on your inventory. It is in this phase of the life cycle that a company has the greatest influence on its spare parts inventory, and getting these questions "right" for your circumstance makes everything else that follows that much easier (but not necessarily easy!).
What is most curious about this phase is how few companies have properly developed guidelines on the process and tools to make these decisions. These should be elements of the policies established as part of your spare parts management system.
The problem is that, too often, when there is a policy, the guidelines are vague or nonspecific. For example, they may suggest the collection of appropriate data such as usage and lead time, which is a good start, but then provide no guidance on what to do with this information, that is, how to actually make the stock-holding decision. The intent is right, but the guidance on execution lets it down.
In this section of the spare parts management resources library there is definitive guidance on how to set both the reorder point and the reorder quantity, using a technique that can be applied on a daily basis with little or no software.
Key topic areas include:
Deciding What to Stock
Spare Parts Standardization
Capital Equipment and First Time Buy
Identifying and Managing Critical Spares
Setting the Re-Order Point and Re-Order Quantity
---
Operations
---
This section of the spare parts management resources library addresses the longest phase of the spare parts life cycle, that is, the operations phase.
Go to the Operations section >>>

Read more
While the decision to create an item and stock it in the inventory may be made in minutes, the item can then be part of the inventory for years or even decades.
During this time, for most spare parts, the item (and the storeroom team) can be involved in a huge range of activities. Accordingly, this is the largest section of our library.
Key topic areas include:
Forecasting
Inventory Optimization
Inventory Optimization: The Inventory Cash Release Process
Inventory Optimization: Reliability Centered Spares
The Optimization Trap
Case Studies
Managing Repairable Spares
Storeroom Management
Data Management and Cleansing
Inventory Accuracy
Conducting Stock Takes
Bar Coding
Integrating Maintenance and Spare Parts Management
Bills of Material
Spare Parts Procurement
---
Obsolescence and Disposal
---
This section of the spare parts management resources library address the end-of-life issues with spare parts management. No matter how an item was first created or how long it is part of an inventory, it is almost inevitable that at some point it will become obsolete and therefore require removal and disposal.
Go to the Obsolescence and Disposal section >>>

Read more
This section addresses the final phase of the life cycle by discussing end-of-life management, the last-time buy, the management of obsolescence, and the options for spare parts disposal.
Key topic areas include:
Managing Obsolescence, End of Life, and Last Time Buy
Spare Parts Disposal
---
Implementation and Change Management
---
This section of the spare parts management resources library addresses the change management required to ensure lasting effect to the improvements made to your spare parts inventory management.
This is vitally important because spare parts inventory management involves a wide range of personnel and there is often frequent 'changing of the guard' – that is changes in personnel. In many cases these personnel have not recieved the required training for the job (hint: they should join SparePartsKnowHow.com).
In other cases the team has been around for many years and has 'ownership' of the old methods. These are the methods that you now know are not working for you.
Therefore it is important that spare parts inventory managers understand the issues and requirements relating to implementation and change management.
Go to the Implementation and Change Management section >>>

Read more
Key topic ares include:
Implementation
Continuous Improvement
Change Management
Please note that the quality of our content is checked and regulated by
Phillip Slater
, the Founder of SparePartsKnowHow.com