Elite Teams: Spare Parts Management Team Training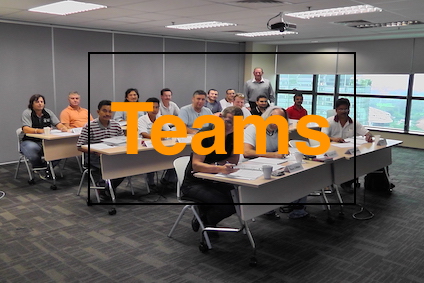 A team-based approach to spare parts inventory management demands team-based training



Spare parts inventory management is a 'team sport'. That is, it takes a team of people to produce effective results in terms of stock holding levels, availability, accuracy, and cost.
These team members come from different areas of your business, including: storeroom, purchasing, maintenance, engineering, and finance.
By training the people from these parts of your company you gain the advantage of shared knowledge, insight, and goals.
It is by not having this shared view of spare parts management that companies experience results that are, let's say, sub-optimal.
The Elite Teams membership at SparePartsKnowHow.com is a company-level membership that can put all your team members 'on the same page'.
By giving your team equal access to all of our content you equip them with the know-how and skills to better coordinate their activity and more effectively manage all aspects of spare parts inventory.
Your entire team can learn what they need and do so with a 'single source of truth'.
---
Elite Teams: Here's How it Works
---
The Elite Teams membership is designed to flexibly provide both structured training and ad-hoc support.
The structure comes from our Advanced Spare Parts Management Course.
The support comes from giving your team to access resources that address specific issues via the Spare Parts Management Library.
As an Elite Teams member your company gets:
Pro Level Access
The Elite Teams membership gives your registered team members Pro Level access to SparePartsKnowHow. The Pro Level puts the 'how to' into SparePartsKnowHow.com!
By gaining access to all online content a Pro Level membership will equip your team with the know-how and skills to effectively optimize and manage all aspects of your spare parts inventory.
Pro Level Blueprint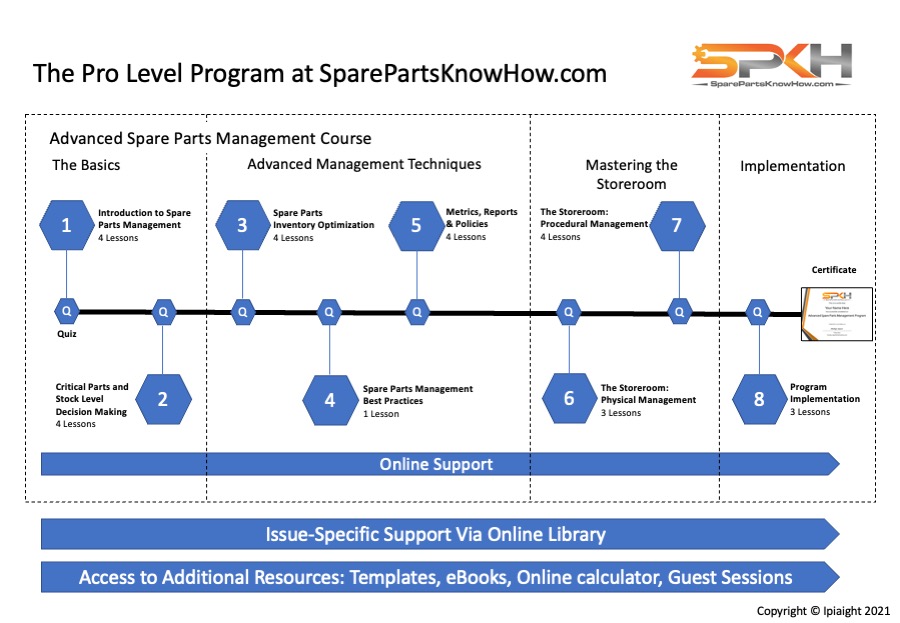 Download your copy of the Pro Level Blueprint HERE.
Group On-boarding Session
To ensure that your team is quickly up-to-speed we will provide a group on-boarding orientation session.
Transferable Membership
If a team member leaves the company or is promoted then you can swap-in another team member for the remainder of the membership time.
Quarterly Progress Report
Each quarter we will provide a report showing the training module achievement progress of each team member.
Significant Savings
By joining as an Elite Teams member your company will benefit from significant cost savings when compared to the cost of individual memberships.

---
How Many Team Members Can Join?
---
The Elite Teams membership allows you to register up to 20 team members. There is no minimum.
Once your company joins, your team can access everything – at a time and place that suits them.

---
Who is the Elite Team Spare Parts Management Program For?
---
The Elite Teams membership at SparePartsKnowHow.com is for companies that are seeking to upgrade the execution of spare parts management across many people at a single location or across multiple locations.
Click here to see the type of companies that have joined SparePartsKnowHow.com.

---
Companies Just Like Yours Are Achieving Genuine Results
---
Phillip Slater's online training program helped my team to better understand the complexities of spare parts management, the application of policies, and the importance of maintenance engagement.
Askar Andirov & Sabit Trumov | Spare Parts Superintendents | Karachaganak Petroleum
We have used the services of Phillip to train maintenance, procurement, planning and warehouse personnel in spare parts management.
Probin Konwar | Head of Maintenance Planning | QAFCO
SparePartsKnowHow.com has been a great resource for me and my team.

We have enjoyed [the] insight and years of experience to help guide activities and streamline our business to become an efficient spare parts operation that supports maintenance and engineers.


Russ Thompson | Corporate MRO Inventory/Purchasing Manager | Idahoan Foods
Phillip Slater helped us to transform our engineering stock holding and we've reduced stock holding significantly and increased availability. I would happily recommend Phillip for any spare parts related projects.
Ian Maitland | Head of Global Engineering | Coats plc
---
Why Choose the Elite Team Membership?
---
As mentioned above, spare parts inventory management is a 'team sport' – there are many 'areas of influence'.
By involving people from each area of influence you gain the advantage of shared knowledge, insight, and goals.
Plus, the Elite Team membership provides the administrative convenience of registering a number of people in one transaction.
In addition, our progress reporting enables your HR function to track the development of individuals and the success of the team membership approach.
---
Your Investment for an Elite Teams Membership
---
Your investment in an Elite Teams membership is just
US$9,990.00 per year.
With a full complement of 20 team members this equates to less than US$500.00 per team member per year.
Please note:
The maximum number of registered team members is 20. There is no minimum.
We will invoice your company for the full membership.
All users must begin and end their access at the same time.
Access does not commence until the invoice is paid in full.
Minimum membership period is 12 months.
Group on-boarding to be provided via GoToMeeting, Zoom, or similar online video service.
Contact us to discuss your needs and arrange membership.
---
Tailored Online and In-house Training
---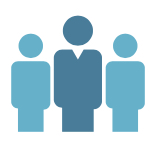 Sometimes, your needs are very specific. That might be due to your organization or your industry.
If our standard programs are not quite what you are looking for then please contact us to discuss how we can develop a program specifically for your situation.



---
For information on our spare parts management online training please visit our
Pro Level page
.
---

Online support provided by: Phillip Slater