Subject Area: Basic Level Spare Parts Management

— Basic Level Access is Complimentary —
---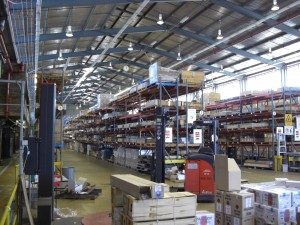 Our Basic Level provides access to:
All blog posts
Our introductory training module
Our regular newsletter to keep you up to date on new articles, videos, webinars and special events.


You can access this content to help with solving an ongoing problem or to learn new skills – or both!

Complimentary Basic Level access is made possible through the support of our
Spare Parts Alliance members.
---
Included: All Blog Posts
---

Our blog archive consists of +300 articles, videos, and features with free access. You can access these using this link.


Plus you can search for specific topics of interest using the 'Search this website' box in the top right hand corner of the page.
Look for this:


---
Included: Introductory Training Module
---
1. Introduction to Spare Parts Inventory Management
4 lessons that cover:
Why maintenance spare parts inventory is different from other types of inventory
5 common supply chain techniques that should not be used with maintenance spare parts inventory
How maintenance, spare parts management, and procurement fit into the big picture
The 5 key financial principles for spare parts management.
How to identify and interpret the key financial reports associated with spare parts management
Please note:
* All content is provided in the modules online.
* This level does not give you access to our full library and other advisory features. If you are after more than the Basic Level then we suggest that you review our Pro level membership.
If you have already registered, CLICK HERE to access the introductory module.

---
Included: Our Regular Newsletter
---

Stay up-to-date!




When you register for Basic Access you will join more than 17,000 spare parts management professionals, from more than 120 countries, who trust, and take advantage of, the complimentary resources and spare parts inventory
management news at SparePartsKnowHow.com.
Our newsletter is generally published three times per month.

---
Why Our Resources and Training?
---
Our resources and training are developed in response to specific 'real world' spare parts management issues and needs. Unlike most 'spare parts management' training they are not just a restatement of standard theory.
We focus on the unique features of managing spare parts inventory.
The techniques we teach have helped companies world-wide achieve results that were just not possible using standard inventory techniques.
But don't just take our word for it, click here for testimonials and recommendations.

---
Who Is Basic Level Spare Parts Management Access For?
---
The Basic Level is for anyone who needs to maintain an interest in this topic and regularly access articles, videos, downloads, and webinars to stay up-to-date with thinking and ideas.
This includes people from: storeroom, spare parts management, supply chain, procurement, maintenance, planning, and finance.

---
Time Commitment
---
There is no set time limit for complimentary Basic Level access.

---
Basic Level Spare Parts Management: Online Coaching and Tutorial Support
---
Online coaching and tutorial support is NOT included with complimentary access.

---


Author: Phillip Slater