Course Overview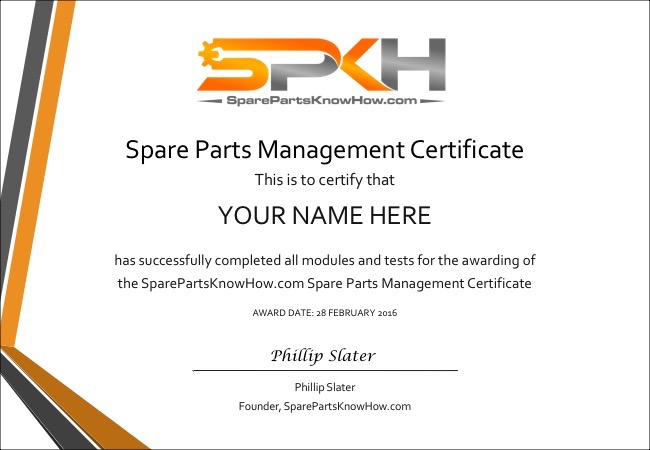 The Spare Parts Management Certificate course is an online program that covers everything you need to know to ensure that you develop the skills, know-how, policies, and systems to minimize your spare parts investment while maximizing your spare parts availability.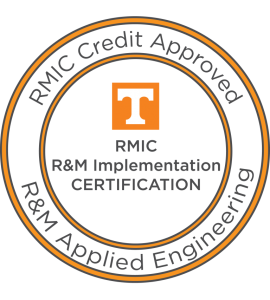 This course can provide
course credit towards the Reliability and Maintainability Implementation Certificate
with the Reliability and Maintainability Center at the University of Tennessee, Knoxville.
Key topics
The Spare Parts Management Certificate consists of six modules:
Module 1: Inventory Management
Module 2: Inventory Optimization
Module 3: Policies and Procedures
Module 4: Metrics and Reporting
Module 5: Storeroom Management and Procurement
Module 6: Implementation and Change Management
To complete the Spare Parts Management Certificate online you read and/or watch the items listed as 'Course Content' on each of the pages for the six learning modules.
What you will learn
The skills and know-how to optimize your inventory
How-to develop the policies and systems needed to minimize your spare parts investment while maximizing your spare parts availability
How-to identify, measure and report the key metrics for your company
How-to manage your storeroom effectively
How-to implement your know-how across your organization
Who is it for?
This course is designed for managers, storeroom personnel, procurement team members, planners, and maintenance personnel who want to develop a comprehensive understanding of the management of spare parts that are used for maintenance and operations support and/or who want recognition of their continuing professional development.
There is material here that you won't find anywhere else.
If you are involved in spare parts and materials for operations and maintenance you would be mad not to take advantage of this resource.
Adrian Hanrahan
Spare Parts Management Specialist in Oil & Gas
Read the full testimonial here
Course length
We estimate that it will take approximately 32 hours of study to complete this material.
Coaching support
As with all our training, you can get coaching assistance via our exclusive online coaching.
Assessment
Each module includes an online quiz. Successfully completing all of the online quizzes leads to the award of our Spare Parts Management Certificate. You can do these quizzes at anytime that suits you and, if required, you can redo any quiz (to a limit of two attempts in any one day). Please note that once you successfully complete all quizzes it may take up to one week to validate your results, after which will forward your certificate.
Cost
As we use a unique membership model, the cost of completing this course is included as part of your SparePartsKnowHow.com membership. Click on the 'Review Membership Options' button below to review the membership options.

Not a Member?Click Here to Review Your Options


Detail below this line is only visible to logged-in members