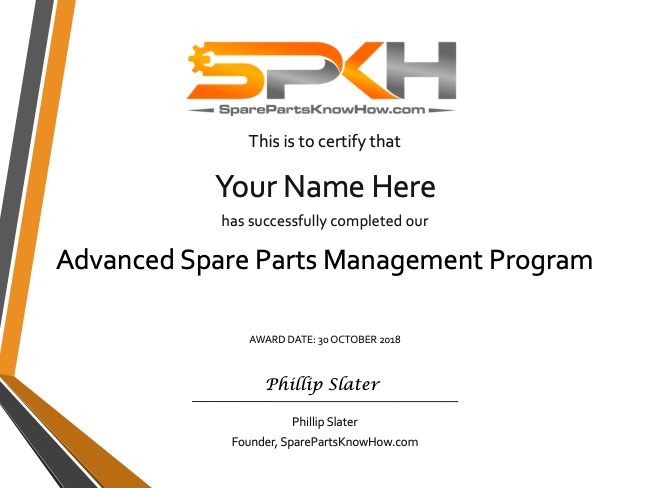 ---
Program Overview
---
The Advanced Spare Parts Management Program is an online course that equips you with the know-how and skills to effectively manage all aspects of spare parts inventory.
This program covers all of the issues faced during the spare parts inventory life-cycle.
Undertaking this program will ensure that you develop the skills, know-how, policies, and systems to minimize your spare parts investment while maximizing your spare parts availability.

---
Program Structure
---
The Spare Parts Management Certificate consists of 8 modules:
Module 1: Introduction to Spare Parts Inventory Management
Module 2: Stock Level Decision Making
Module 3: Spare Parts Inventory Optimization
Module 4: Spare Parts Best Practices
Module 5: Metrics, Reporting & Policies
Module 6: The Storeroom: Introduction and Physical Management
Module 7: The Storeroom: Procedural Management
Module 8: Program Implementation
Please note that all course content is provided in the course modules online.

---
What you will learn
---
How to proactively manage stock levels through pre-stocking analysis, joint planning, ensuring accuracy, and timely recognition and management of obsolescence.
How to Identifying critical spare parts
How to decide what to stock
How to set the Re-Order Point
How to set the Re-Order Quantity
How to manage slow moving inventory
How to manage repairable spares
Best Practices for spare parts inventory management
How to continuously optimize your spare parts stock levels based on real-world information, targeted reviews and the refinement of processes.
How to ensure that you manage all aspects of your spare parts inventory using a comprehensive set of written and fully implemented policies and related procedures.
How to develop the required policies
How to utilize, and formally report, a set of standardized performance measures, the purpose of which is to drive improvement rather than 'keeping score'.
How to manage your storeroom effectively through controlling access, standardizing descriptions, applying visual management, controlling transactions, maintaining parts to be fit for use, and integrating with procurement.
How to effectively and efficiently manage both the human and project management aspects of identifying, executing and implementing improvements.
---
Who is it for?
---
The Advanced Spare Parts Management Certificate program is designed for those engaged in spare parts decision-making where the spare parts are held in-house and used for maintenance and operations support. This includes managers, supervisors, storeroom personnel, procurement team members, planners, and maintenance personnel.
Completing the program will give you the confidence to develop a comprehensive approach for the management of spare parts throughout their entire life-cycle. In addition, you will achieve 42 CPD hours as recognition of your continuing professional development.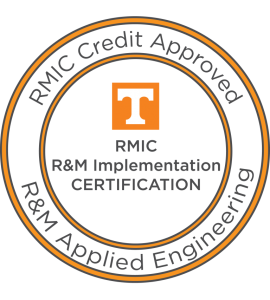 This course can provide course credit towards the
Reliability and Maintainability Implementation Certificate
with the Reliability and Maintainability Center at the University of Tennessee, Knoxville.
Find out how.


---
Course Length and Time Commitment
---
We recommend a minimum time commitment of
2 hours per week
.
Studying at this rate will enable you to complete the training within the allocated time and leave some time for review.
Of course, if you have time, you can work through the content faster than that. The choice is yours.
For your convenience, access to the content is available for 6 months from the date of enrollment.

---
Coaching support
---
Online course-related coaching and tutorial support is provided via our
exclusive online coaching
function.
---
Assessment
---
Each module includes an online quiz. Successfully completing all of the online quizzes leads to the award of our Advanced Spare Parts Management Certificate. We set the 'pass' level for these quizzes at 80%.
---
Training Investment
---
Total investment in this program is $499.
Payment is accepted via credit card and PayPal.



For other enrollment options please visit our How to Enroll page.

After you enrol CLICK HERE to access the course content