Subject Area: Spare Parts Management Process
"It doesn't make sense to continue wanting something if you're not willing to do what it takes to get it."


This is a quote from the writer James Clear, author of the book Atomic Habits.
While Clear was talking about lifestyle ambitions, my thoughts turned to spare parts management.
How many companies set ambitions relating to inventory optimization, parts availability, or even parts functionality after long-term storage, but are not willing to do what it takes to meet those ambitions?
By that, I mean assigning the resources, training staff, applying practical decision-making tools and guidelines, having the discipline to implement, measuring application, etc.
In my experience, too few.
Yet, the actions required to achieve extraordinary results are not a mystery, they are known and documented.

Click here for our FREE 30 Days to Better Spare Parts Management Program

It's Not About Time

Often, I hear people say that they don't have the time to take those actions.
This is usually because they are too busy 'firefighting' to solve daily problems rather than setting up systems that don't need daily firefighting.
To quote clear again:
"Before you throw more time at the problem, throw more focused action at the problem."
'Focused action' are the key words.
Don't try and solve all problems all at once. Pick one area or issue that needs addressing and work on that. Focus on solving that problem.
In many ways, this really relates to momentum. Start taking small steps and before you know it you will be solving big problems. Achieving extraordinary results.

Defining the Right Kind of Action

Perhaps the key is to define the right kind of action.
Planning is great but it is not the right kind of action.
Breakthroughs are great but relying on a search for breakthroughs is not the right kind of action. This only diverts attention from applying solutions that already work.
Focused action requires the application of those known and proven management solutions and processes. This is the right kind of action.
You do need to trust the processes of good practice. That is, work on your spare parts management process, not the results.
Once more, in the words of James Clear:
"To crave the result but not the process, is to guarantee disappointment."
---
---
100% online
Study at a pace and place that suits you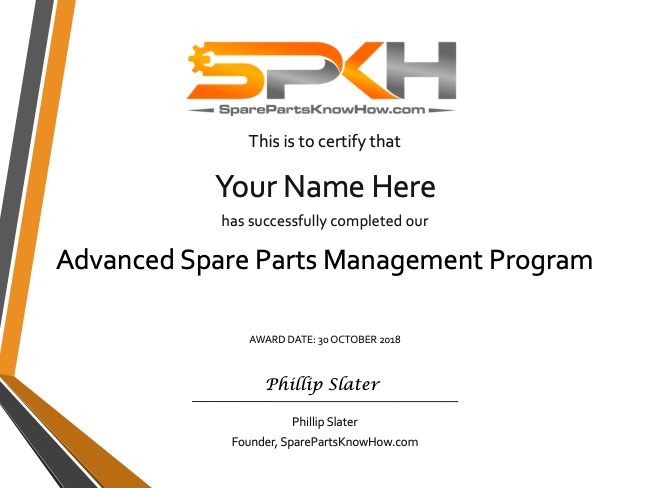 The Advanced Spare Parts Management Course covers all the issues faced during the spare parts inventory management lifecycle.
Completing this course equips you with the know-how and skills to effectively manage all aspects of spare parts inventory.
The course specifically focusses on MRO and spare parts that are held in support of equipment operations and maintenance.


---
---


Posted by Phillip Slater