Subject Area: Spare Parts Inventory Management – Part 3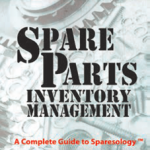 The book Spare Parts Inventory Management addresses the entire life cycle of spare parts inventory management – from establishing the system of management through to deciding what to stock, the operations phase, and ultimately obsolescence and disposal.
In this short video Phillip Slater explains Part 3 of the book – The Operations Phase. This is where most of the work is done. During the Operations Phase you are interested in optimization, storeroom management, inventory accuracy, data management, integrating spare parts and maintenance management, and procurement issues.
For more information please visit http://www.phillipslater.com/spare-parts-inventory-management/





For more information on Spare Parts Inventory Management – Part 3 please visit http://www.phillipslater.com/spare-parts-inventory-management/
<<< Go to previous video on the book
Go to the next video on the book >>>
You might also be interested in our Resource Library