Subject Area: Spare Parts Inventory Management – Part 4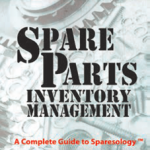 The book Spare Parts Inventory Management addresses the entire life cycle of spare parts inventory management – from establishing the system of management through to deciding what to stock, the operations phase, and ultimately obsolescence and disposal.
In this short video Phillip Slater explains Part 4 of the book – Obsolescence and Disposal. This is the final phase of the life cycle and addresses end-of-life management, the last-time-buy, the management of obsolescence, and spare parts disposal.
For more information please visit http://www.phillipslater.com/spare-parts-inventory-management/





For more information please visit http://www.phillipslater.com/spare-parts-inventory-management/
<<< Go to previous video on the book