2. You Will Need to Hold Items That Will Not Move Often (If at All)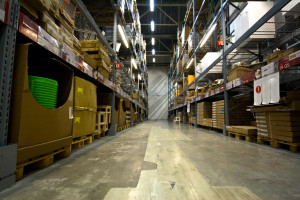 If you ran your spare parts warehouse using the retail model you would quickly find yourself with major shortages and extended downtime.
Continuing this series on 7 Things That Every Senior Manager and CFO Should Know About Spare Parts Management this post addresses Part 2: You Will Need to Hold Items That Will Not Move Often (If at All).
One Big Mistake in Spare Parts Inventory Management
The most obvious difference between the standard approach to supply chain and inventory management (based on a retail and wholesale inventory management model) and spare parts inventory management is that with spare parts you will deliberately stock items that you don't want to use. This is one aspect of spare parts inventory management that most senior managers and CFO's don't immediately appreciate. And this is why they will direct teams to 'review the items that don't move' – which is a big mistake
The items that do not move often (or at all) are typically the insurance spares that companies hold, literally, 'just in case'. Insurance spares are the high-value, long-lead-time items where, if the spare was not available, operations/production would stop BUT that you don't really expect to use in the lifetime of the equipment.
What does that mean – that you don't really expect to use?
The requirement to hold (or not hold) a rarely used item is actually not that different from deciding to hold any spare part. It will be based on an engineering assessment of the expected failure mode, the expected life of the item, the supply lead time, and the consequence of failure.
Let's look at a large electric motor as an example. You might expect that with proper installation, use, and care, a large electric motor might last the expected life of an asset. In that case you would not really expect to use or require another of these motors. However, you might also assess that without that motor your plant will be stopped for months, and that sometimes human error intervenes, or there are design issues, or maintenance plans aren't followed, so you decide to hold one in inventory. This is a classic 'insurance spare'.
It is really a matter of risk assessment – likelihood, consequence, and mitigation. For example, the likelihood of failure might be low, there might be few mitigation options, but the consequences could be catastrophic for the company. Holding these spares is similar to taking out an insurance policy; you don't want to be in a position that you need to 'make a claim', but you don't want to operate without the coverage.
Compare Insurance Spares with Retail Inventory
Compare spare parts management with the way retailers or wholesalers act with their inventory. In these environments they don't want items sitting on the shelves, unsold, for long periods; they want turnover. Retailers want items to come in and sell as quickly as possible. Items that don't sell quickly are delisted and not restocked. These types of companies have the 'luxury' of being able to do that and this is the standard supply chain and inventory model that is most widely understood.
With spare parts inventory you just don't get that opportunity. If you ran your spare parts warehouse using the retail type model you would quickly find yourself with major shortages and extended downtime.
Not understanding this difference is one of the major mistakes made by spare parts inventory managers. When accountants (and it is typically accountants) suggest that the way to reduce spare parts inventory is to remove all items that haven't moved for two to three years, they are applying the retail-wholesale logic that they were taught at university or elsewhere, without understanding the dynamics of spare parts inventory and why a company holds spare parts.
Here's what I do when someone suggests the removal of slow moving parts as the way forward with an inventory review. I ask if they keep a spare tire for their car and when was the last time that they used that spare. The spare tire is actually an insurance spare and with this question I find that, in their personal lives most people readily understand the need for this type of slow moving spare. They just don't readily translate that understanding to the industrial environment.
Of course this doesn't mean that all items designated as insurance spares really are or that the quantity held is correct. You could still mis-categorize these items and still hold too many – that can happen with all spare parts inventory items. So, the insurance spare category is not to be abused or ignored. Insurance spares should be treated like all other spare parts and be subject to the same rigor of review, they just shouldn't be singled out because they don't move often. That is the nature of spare parts inventory that is held for maintenance and operations support rather than resale.
Ready to learn more?
Click Here