Subject Area: Management of Spare Parts Inventory
Do you manage spare parts inventory?
Are you aware that spare parts inventory has specific characteristics that differentiate it from other inventory types?
This article explains 8 ways in which the management of spare parts inventory is different to managing other types of inventory.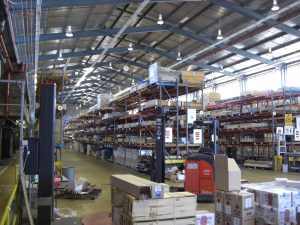 As a young maintenance engineer, I learned the hard way that spare parts don't follow the usual rules of inventory management.
When first in a position that included spare parts inventory management among my responsibilities, I started by applying the inventory management rules that were taught during my time completing a maintenance engineering degree.
These just did not work.
Not only is the supply chain different, but many aspects of spare parts inventory management are different from the usual supply chain and inventory management orthodoxy.
The classic supply chain theory (and most training) is based on what can be called a 'retail model', that is, the model most often associated with retail management and fast-moving consumer goods.
We have identified 8 ways in which spare parts inventory management (for parts held for maintenance and operations) is different to the standard 'retail model'.
1. You stock items that you don't want to use
The most obvious difference between the 'retail model' and spare parts inventory management is that with spare parts you will deliberately stock items that you don't want to use. These are the insurance spares that companies must hold, literally, just in case.
In a retail model, they don't want items sitting on the shelves, unsold, for long periods; they want turnover.
When people suggest that the way to reduce spare parts inventory is to remove all items that haven't moved for two to three years, they are applying the 'retail model' logic without understanding the dynamics of spare parts inventory and why it is held.

2. Items of small value can be critically important
In 'retail mode', items of small value are rarely that important, as they are unlikely to return any significant profit unless they are very high turnover.
With spare parts inventory management a low-value item may be critical to keep your plant operating, and so ensuring the supply of that part might be the most important thing that the spare parts management team can do.
3. Stock out costs are disproportionately high
In 'retail model', the cost of not having an item available when requested (a stock out) could be limited to just the marginal profit that the company makes on that item. In some circumstances, it doesn't even have that impact, as the buyer may back-order the item and be satisfied with receiving it later.
With spare parts inventory the cost of downtime if you do not have a critical spare part available when required can far outweigh the cost of holding the spare part.
4. Users are part of the process but are not (generally) accountable for their actions
In a 'retail model', the user (in this case the buyer) of an item has no input into determining the stocking for an item and certainly no input or accountability for the process that gets the item on the shelf.
With spare parts inventory the user (maintenance) is central to determining whether an item is required, how many of an item will be required, and when it might be required. It is the user's input that feeds into the entire procurement and inventory management process, and yet maintenance is rarely held accountable for the decisions it makes or the quality of the information it provides.
5. Small market eliminates the "balance effect"
Retailers typically have a large "catchment area" of people who may come and buy their items. This large market can even enable the retailer to balance stock locations with the location of demand.
Spare parts inventory is often intended to support one machine or set of machines at one site. This means that if parts are bought and not used in the expected volume, there are few, if any, options for alternative use.
6. Huge forecast variations due to technical requirements
In almost all stages of the standard supply chain, forecast variations greater than 20-30% will result in investigation and further refinement of the forecasting process.
With spare parts inventory the forecast variation could easily be 100%. This occurs when an item is bought and not used (an item that was expected to be used
7. Massive variations in the value and volume of items managed
Retailers and wholesalers can usually afford to have different people managing the decision making for different categories. There may be a person who is the buyer of shoes, one that does fruit, and so on.
Usually with spare parts inventory management there is just one category, and that is often put together with other related categories. This means that there is one process for decision making and management of all different types of spare parts: small, large, cheap, expensive, imported, local. This makes it very difficult to develop the kind of specialist management insight that occurs in the retail and wholesale environment.
8. Stock sales usually realize little return
The great advantage of retail industries is the ability to have a sale. This might result in the loss of all margin or even a loss on the cost price, but it can move the stock and recover some significant value.
With spare parts inventory management obsolete and excess items often have little or no resale value.

---
Spare Parts Inventory Management Requires More Care,
Not Less
---

What all these issues mean is that the risks associated with purchasing spare parts is much greater than with items in a retail environment.
If not properly understood, these differences can drive companies to make inappropriate decisions on spare parts holdings that will have a significant impact on both the inventory availability and the level of funds that are invested in a company's spare parts inventory.
This means that companies should take more care with their spare parts inventory decision making, not less.


It is precisely because the issues are many and the nuances subtle that here at SparePartsKnowHow.com we have developed as a platform to access a wide range of resources relating to spare parts inventory management and optimization.
---



Author: Phillip Slater