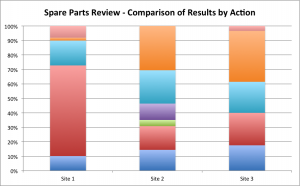 There seems to be a common belief in spare parts inventory optimization that a complete solution can be achieved by tackling just one aspect of the spare parts inventory.
But this isn't really the case. It takes a range of actions to achieve spare parts inventory optimization.
---
For complimentary access to this article, and our entire blog archive, register using the button below. We will also keep you up-to-date on new content and courses.
---
---
You can learn more about how to achieve your inventory optimization goals by joining our Pro Level Spare Parts Management Program.
For more information please visit our Pro Level page.
---



Author: Phillip Slater