Mastering Spare Parts Management Meetings is a two-part video series developed from a presentation and interview with Joel Levitt.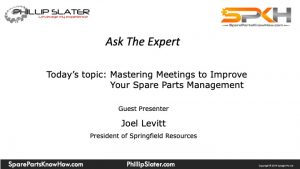 Introduction
It is a fact of life that spare parts management meetings are required for both planning and decision-making.
Why are spare parts management meetings so important? Without meetings and the communication and agreement they can engender, no (big) action can take place.
To explain how to get the most out of these meetings we invited Joel Levitt to share his experiences and lessons on mastering meetings.
Joel is well known expert in all things relating to maintenance and the author of many books, including 10 Minutes a Week to Great Time Management and 10 Minutes a Week to Great Meetings.
Mastering Spare Parts Management Meetings Part 2
Part 1 of this series features Joel presenting his top 5 lessons for meetings. Click here for Part 1.
Part 2 (see below) is a conversation with Joel where he answers all our questions about meetings and provides direction on how to get a great return on your time in all future meetings.


---
This video is available to members and subscribers only.
For complimentary access to this video, and our entire blog archive, subscribe using the button below.

We will also keep you up-to-date on new content and courses.
---

Visit our Welcome page for more information on our training.