Mastering Spare Parts Management Meetings is a two-part video series developed from a presentation and interview with Joel Levitt.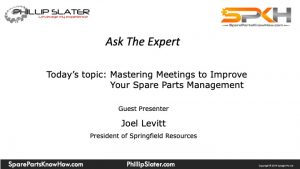 Introduction
It is a fact of life that spare parts management meetings are required for both planning and decision-making.
Why are meetings so important?
Without meetings and the communication and agreement they can engender, no (big) action can take place.
The problem is that with few exceptions, most people who run spare parts management meetings have had no training, no study and no coaching to run meetings. This means that many meetings are ineffective and inefficient. They take too long and produce no results.
To help fix this, we asked Joel Levitt to share his lessons on mastering meetings.
Joel is well known expert in all things relating to maintenance and the author of many books, including 10 Minutes a Week to Great Time Management and 10 Minutes a Week to Great Meetings.
Mastering Spare Parts Management Meetings Part 1
Part 1 of this series features Joel presenting his top 5 lessons (see video below).
Part 2 is a conversation with Joel where he answers all our questions about meetings and direct you on how to get a great return on your time in all future meetings. Click here for Part 2.

Please note that this content is only visible to our Pro Level Members.


---
For access to this post, and all of our content, join using the button below.
If you are already registered then you need to log-in.
---
---
For information on our Pro Level membership please visit our Pro Level page.
---



Posted by: Phillip Slater