Subject Area: Instructor-Led Spare Parts Management Training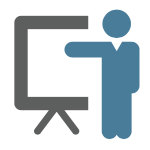 Our instructor-led spare parts management training provides you with the best training experience.




Our instructor-led courses are delivered 100% online, utilizing a combination of individual study of articles and video, and live interaction with the course instructor.
This approach provides the best of both worlds, as the participants can study at a time that suits them, but they also get the structure of scheduled class/tutorial times.
Direct instructor contact enables participants to clarify issues and ask questions, adding a level of engagement not available through other online training formats.
Our approach provides:
Flexibility: study the content when it suits you
Structure: scheduled class/tutorial times adds a layer of discipline to the training
Engagement: direct instructor contact enables you to clarify issues and ask questions
Access: content is available beyond the immediate class program
Cost savings: no travel and accommodation expenses
Convenience: no extended time from work
Networking: interact with, and hear from, your peers during online sessions
'Soak Time': teaching this content over weeks rather than hours gives time for participants to absorb the content.
On all measures this approach is superior to traditional class room training.
Feedback from some of last year's instructor-led program participants
I was really impressed with the material and content of the class. I learned a great deal and am working on applying that knowledge.
Jason
MRO Buyer

Thanx for a great class. I really enjoyed your knowledge of MRO and the stories from your experience
Teresa
SR. Global MRO Program Manager

I take this opportunity to thank you for this powerfully crafted course. The material and presentation were efficiently structured. The learning experience was profound. It was simplicity, on the far side of complexity.
Khalid
Assistant Purchasing Manager
---
In-House Instructor-Led Spare Parts Management Training
---
All of our training can be provided as Group Training courses in an instructor-led format.
Timing is flexible to suit you and your team (subject to availability).
Click here to review our Group Training options.
---
Spare Parts Inventory Reduction
---
Our Team-Based Inventory Reduction and Optimization program is action oriented.
This is not just training, it is a program aimed at delivering a specific outcome: an operationally sustainable inventory reduction.