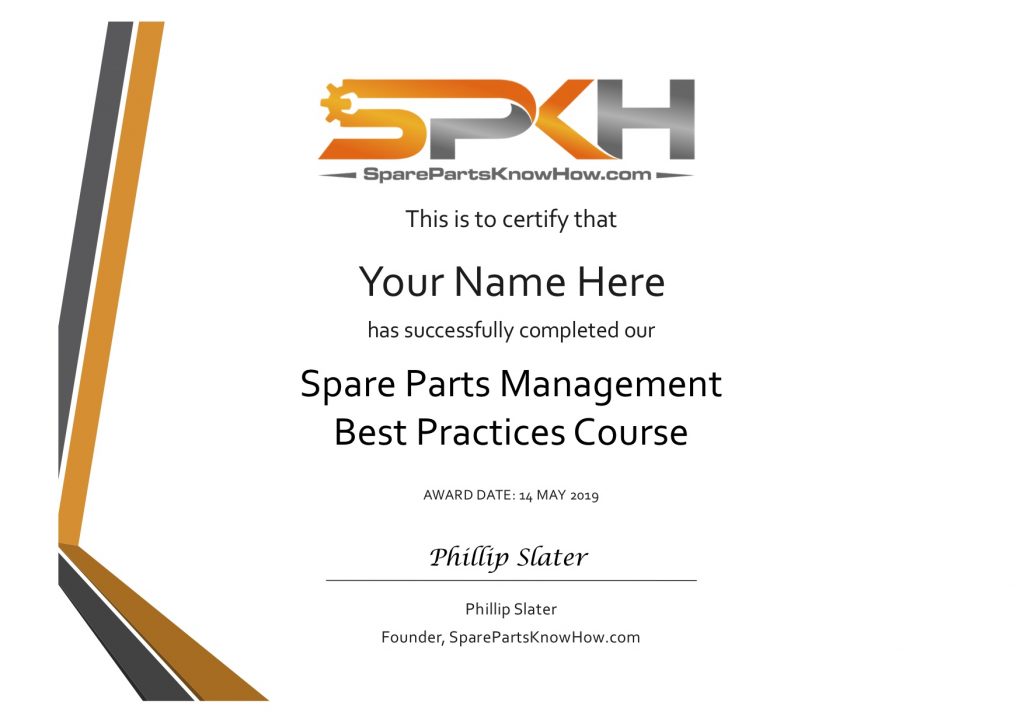 Course code: IL02
Delivery method: Instructor-led, online
Instructor: Phillip Slater
Prerequisites: None




When does this course start?
This course is only available for group training.
Contact us to discuss your needs.

---
Course Content
---
In this instructor-led training course we show your team the
seven inventory management practices
that make a genuine difference to spare parts inventory management results.
We then help your team identify how they can apply these practices to improve the results from your spare parts inventory.

---
Course Structure
---
This course consists of 1 learning module and 1 lesson.
Spare Parts Best Practices (SBP1)
Learning outcomes:
The process we used to identify best practices.
The best practices that are demonstrated to make a genuine difference to spare parts inventory management outcomes.
How you can apply these practices to make a difference with your spare parts inventory management.
As part of the course you get access to videos and white papers explaining our research methodology and detailing the best practices.
Please note that all course content is provided in the course module online.
Perhaps most importantly, this instructor-led course gives you the opportunity to ask questions and clarify your understanding of best practice.

Click here to read more
It is expected that participants will review the specified lesson prior to the online session.
---
Who Is It For?
---
The Best Practices in Spare Parts Inventory Management training course is for people who want to know 'what works' with spare parts management. This includes people from disciplines such as: storeroom, spare parts management, supply chain, procurement, maintenance, planning, and finance.
---
Course Length
---
Participants receive 1 month access to the course content and use of our online coaching for follow up and review. At the end of the first week we hold a 90-minute online session to discuss and review the content.
---
Online Coaching and Tutorial Support
---
In addition to the live online session, online course-related coaching and tutorial support is provided via our
exclusive online coaching
function.
---
Course Assessment
---
This module includes an online quiz. Successfully completing the online quiz leads to a certificate recognizing successful completion. We set the 'pass' level for the quiz at 80%.
Please note that the certificate will be forwarded to the registered email address within 7 days of course completion.

---
Training Investment
---
Investment in this instructor-led program on will be quoted on application.
Payment for this program is via invoice only.