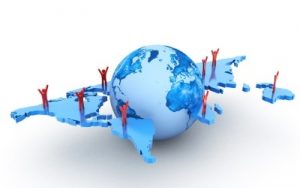 Since the 1990's supply chain collaboration has had a major impact on the overall level of business inventories.
Of course, some companies have done better than others but there is no doubt that industry stock turns have increased significantly over the past 30 years*
However, the same cannot be said for spare parts inventories. In fact, it appears that there is no clear overall improvement in the stock turn of spare parts inventories**. Again, some companies have done better than others, but many are no better now than they were in the past.
Put another way: despite all the improvements in data management and information sharing, it appears that supply chain collaboration is yet to have any real impact in the spare parts storeroom.
Potentially this result is driven by the complications arising from:
• Long supply chains, and
• The long tail of slow-moving and commercially obsolete parts
The Impact of Long Supply Chains
Long supply chains have three primary effects on spare parts management:
If the item is to be held in inventory, the elapsed time from despatch to delivery requires the receiving company to set a higher re-order point.
The longer and more complex the supply chain, the greater risk of supply chain disruption.
For Original Equipment Manufacturers (OEMs), the extended time for delivery makes them appear less responsive.
The Impact of the Long Tail
Owners and users of plant and equipment naturally expect parts to be available, from the OEM, no matter the age of that equipment. For OEMs this is problematic because it is not necessarily economic for them to hold an extended range of slow-moving parts. This is what makes the parts commercially obsolete.
Despite all the improvements in the past couple of decades, data management and information sharing cannot overcome this dual tyranny of distance and aging equipment. However, it is not hyperbole to say that we may now be on the verge of a revolution in spare parts management that overcomes both of these barriers.

The Additive Manufacturing Revolution
3-D printing or more correctly, Additive Manufacturing (AM), has the potential to change everything with respect to spare parts inventory management and procurement. As the technology develops, people will be able to manufacture parts at almost any location they choose. The constraints of needing a complex factory, and all the associated investment, dedicated to making specific spare parts may just disappear. It may even be that some parts are manufactured in-house at the user company's own facility, under license from the OEM.
With 'print on demand', OEMs will need to hold less inventory, bringing down their costs. They may also choose to shorten the supply chain by placing appropriate AM equipment in each major market, rather than have a central factory somewhere. They may no longer be required to have regional warehousing. A company in, say, California, that purchases parts from a European supplier may find that the supply lead time is cut from months to days because the supplier locates an AM machine in the US rather than supplying from a plant or warehouse in Europe.
These types of changes have the potential to revolutionize spare parts management.
The Additive Manufacturing Sweet Spot
So, what is the AM sweet spot?
Imagine an organization that has facilities in different regions or countries that each have a low level of local use of a specific part. At an aggregate level they may purchase lots of this item, but each site only uses a few. This represents both a procurement and logistics challenge. With AM, this company could order from a supplier that has the part made in or near each user location – slashing lead times, reducing inventory levels, and simplifying supply chain management.
Now imagine a company that has aging equipment. For them, the dreaded 'last time buy', which is the purchase of a parcel of parts that are soon to be commercially obsolete, may become a thing of the past. With AM there may be no such thing as 'commercially obsolete' because parts could be economically produced at any time.
These two very common situations may just be the AM 'sweet spot'.
The Additive Manufacturing Revolution is Now
AM is not the future; AM is happening right now.
Here are some items that have recently been reported as being created today using Additive Manufacturing. BAE Systems is using AM to make components for four squadrons of Tornado fighter jets for the British Airforce. Similarly, GE Aviation is using AM for parts for its LEAP jet engine. Automotive companies are starting to use AM. Whitegoods manufacturers use AM.
While currently the range of parts that can be made may be limited, as the technology evolves Additive Manufacturing has the potential to completely revolutionize spare parts management.

* This is evidenced by the US Bureau of Statistics, Federal Reserve Economic Data https://fred.stlouisfed.org
** SparePartsKnowHow.com research

Visit our Welcome page to learn more about how our spare parts inventory management training can help you to do more in spare parts inventory management.