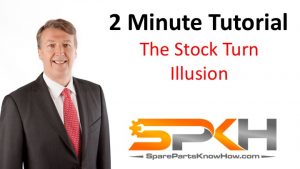 What if the metric that you rely on doesn't actually tell you what you think it does?
In this 2-Minute Tutorial Phillip Slater discusses the Stock Turn Illusion and how some companies misinterpret this important spare parts inventory management measure.
Phillip Slater is a Spare Parts Management Specialist with 35 years experience and the founder of the online training and resource center at SparePartsKnowHow.com.
Stock Turn Illusion Video
See also related content:
Stock and Inventory Turn definition
Problems with Stock and Inventory Turn Measurement
2-Minute Tutorial on Stock and Inventory Turns