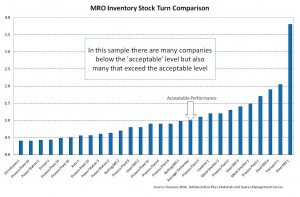 Stock turns is one of, if not the, most important metrics that you can use to measure the effectiveness of your spare parts inventory management.
However, like all metrics you do need to calculate it and use it in the right way.
One of the most common issues with stock turns measurement is that companies don't calculate it in a standard way. This means that when they try to benchmark themselves against other organizations they get misleading results.
Sometimes they think that they are not doing vey well when they actually are.
However, the worst outcome is when they think they are doing well and they actually aren't.
This article covers:
Stock turns definition
Stock turns for wholesale spare parts management
Stock turns for in-house spare parts management
Using stock turns as a benchmarking and continuous improvement metric

Click here to watch our orientation video

Detail below here open to members only




Ready to learn more?Click Here




Author: Phillip Slater