Subject Area: Spare Parts Management Goals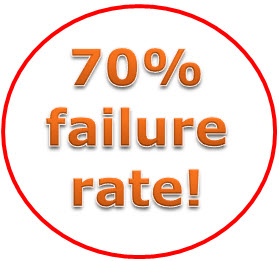 Not achieving your spare parts management goals must be just about the most frustrating experience you can have in your job. 
You work hard to deliver a project but the promised benefits are just not realized. 
In fact, recently, the highly regarded consulting group McKinsey & Co. released research showing that as many as 70% of projects fail to achieve their goals.  Wow – 70%!
There could many reasons for this and I am sure that you are familiar with the usual list: a lack of buy in, the distraction of other needs, a lack of training, poor record keeping, and poor culture are just a few. 


All of these reasons have one thing in common: They distance us from the project failure by placing the blame somewhere else.
While any or all of the above may be factors to manage, I believe that there is only one reason why spare parts management goals are not achieved:  people give up too soon.
Napoleon Hill, perhaps the father of personal and business improvement once wrote that people give up when they are 'three feet from gold', meaning that even when they are on the right track for success they stop too soon.
Recently I took a (well earned) vacation and during that trip I went fishing.  Not just any old fishing, I went fishing for the elusive black marlin. 
We were on a boat about 50kms (35 miles) off the north coast of Queensland, Australia, fishing on the outside of the Great Barrier Reef.  We were in the right place, at the right time of year, with the right equipment but, to tell the truth, we were not having a good day.  After about 6 hours we had only caught two smaller fish, one being a 15kg (32lb) Mackerel that we took home for dinner.
Because of the long trip back to port we knew that we had to head back by about 5PM – just to be sure that we got back through the reefs before dark. 
With a dismal day behind us and a long trip back, as the clock approached 5PM some of the team were openly talking about heading back early.  
But I was adamant that we shouldn't go early – while there was time there was still hope of catching that marlin.  I certainly didn't want to leave when we were three feet from gold!  
In short, while we had so far failed to realize our benefit (a black marlin) we should not give up.  So we persevered.
With just minutes to go before our enforced deadline of 5PM we all heard a sound that instantly re-energized us – the scream of the reel as a fish took the bait. 
The fight was on!  And this was no ordinary fish, it turned out be a 1,100lb Black Marlin, the holy grail of sports fishing and bigger than I had dared to imagine possible. 
Forty five minutes of hard work and sweat later I had the fish at the back of the boat and it was tagged and released.  (You can watch a video here.)
Almost in the blink of an eye the day turned out to be a huge success – all because we didn't give up too soon.  We let the whole day play out.  We knew that we were in the right water with the right plan so we used our resources to their maximum and didn't let disappointing early results sway us from our mission.
Ok, I get it that fishing is not exactly like a spare parts project but next time you are thinking about changing tack or moving on from a project just ask yourself if you are giving up 'three feet from gold'.
If you are doing the right thing to get the result that you want, perseverance might just pay off!
---
For information on our Pro Level membership please visit our Pro Level page.
---



You might also be interested in a post on inventory management goals.