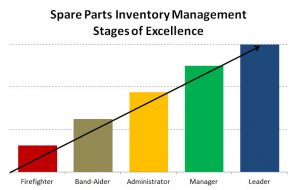 Of course, spare parts management goals can be determined at any time of the year but usually there is an event that precipitates the need to review current goals and, if necessary, set new ones.
This might correspond with budget setting. Often it is the start of a New Year. If the two coincide then New Year goal setting is almost certain.
When it comes to setting spare parts management goals, typically, there is only one goal that is identified – a reduction in inventory value. Why? Because everything else seems so hard to measure. But total dollar value, every finance department wants to know what that is.

Therefore, the goal is typically to hold less inventory in 12 months time than you hold today and to do that without compromising availability or fill rate.
But is this really enough?


---
For access to this post, and all of our content, join using the button below.
If you are already registered then you need to log-in.
---
---
For information on our Pro Level membership please visit our Pro Level page.
---



Posted by: Phillip Slater