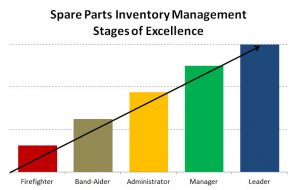 Of course, spare parts management goals can be determined at any time of the year but usually there is an event that precipitates the need to review current goals and, if necessary, set new ones.
This might correspond with budget setting. Often it is the start of a New Year. If the two coincide then New Year goal setting is almost certain.
When it comes to setting spare parts management goals, typically, there is only one goal that is identified – a reduction in inventory value. Why? Because everything else seems so hard to measure. But total dollar value, every finance department wants to know what that is.
Therefore, the goal is typically to hold less inventory in 12 months time than you hold today and to do that without compromising availability or fill rate.
 
The Real Question Relating to Spare Parts Management Goals
 
There is nothing wrong with this goal, per se. Companies should manage their working capital better.
Plus, people need goals to help prioritize their efforts. It looks good in the budget papers. And people generally feel positive about goals that seem to be aimed at improving things.
The real question, then, is: Is the goal actually relevant?
Let me explain.
The key to remember is that not all spare parts management goals are equal. This is because not all companies are equal and not all circumstance is equal. Consider the following:
Just because a certain level of inventory was achieved elsewhere doesn't mean that it is right for your company.
You will have different systems. Different supply chains. Different demand patterns. If you operate plant and equipment you will have different equipment and different maintenance maturity. All of these things result in different inventory needs.
Can the goal actually be measured with any certainty?
This might sound strange when talking about money, but it is a real issue. For example, I have seen companies that set a small inventory reduction as their goal – say 3%. Given the ups and downs of daily/weekly/monthly usage this reduction might be achieved merely by holding off ordering high value items for a few weeks. Or maybe 3% is achieved in a high-usage period such as a shut down. Hence, this goal is really within the general level of 'noise' and so is really of no value.
Is the goal actually achievable?
There is nothing wrong with ambitious goals, but they need to be supported with appropriate resources. Its' easy to look like a champion by announcing a big goal at budget time but without the proper training and support why would anyone think that their team can suddenly deliver on something they haven't achieved in the past.
So, what should you do?
There are two key actions for setting and achieving your goals
First, use the goldilocks approach.
Not too big. Not too small. Just right for your company and your circumstance. That is not an excuse for under-achieving (as in, it's just not right for us because…). You need to really understand what is possible and what is holding you back. It could be that your systems are set up in a way that actually works against achieving your goals. Remember, you can always up the ante, next year. That's why they call it continuous improvement.
Second, give your team the training and resources to achieve the goal.
By training, I mean training your team in the detail of spare parts inventory management, not just how to use your ERP or how to use some other software. It is only through really understanding the dynamics and issues that people will be able to identify problems and make better decisions. And its only by making better decisions that thing will improve.
********
Spare Parts Management Gap Analysis
If you would like to learn more about your organizational strengths and weaknesses, then check out our spare parts management gap analysis. 
Understanding Best Practices
To understand what best practice really is, check out our Training Module on Best Practice. (Module 4 in our series.)
In just 2 hours we will show you both how we identified best practice and the practices that have been shown to make a real difference to outcomes.