Topic area: Supply Chain Partner Relationships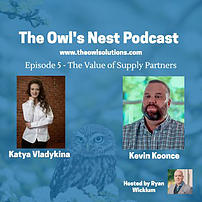 In this podcast, Ryan Wicklum of The Owl Solutions, interviews Katya Vladykina, supply chain practitioner, and Kevin Koonce of Right Sized Inventory.
Right Sized Inventory (RSI) produces inventory optimization software that is powered by their patented and unique approach to supply chain modeling.
Not only is their inventory optimization software unique, they are an 'open book' in discussing how it works.
In this interview, the discussion focusses on supply chain partner relationships and supplier communication, they also discuss how supplier management fits within a company's data strategy, and then explore how the active management of suppliers might change in the next few years.
Katya and Kevin's varied backgrounds provide different perspectives on supply partner communication and management.
You can listen to an edited version of the interview below.
Right Sized Inventory is a member of the Spare Parts Alliance.
---
You might also be interested in this Spare Parts Inventory Optimization Software: Selection Guide.
---
Would you like an introduction to Right Sized Inventory?
---
You might also be interested in reviewing all of our complimentary spare parts management guides.
---