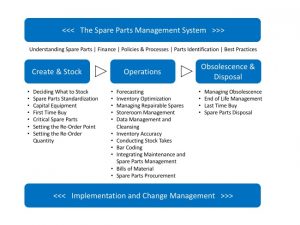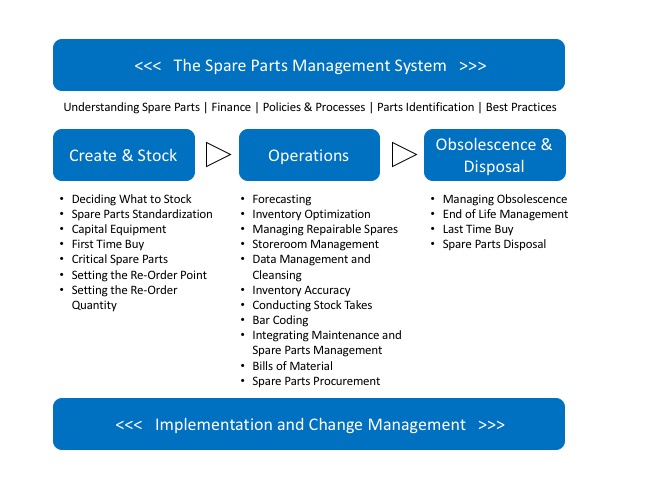 Sparesology ® is a term coined as a shortcut for the discipline of optimizing the physical, financial, process, and human resource management of spare parts.
Sparesology is more than just inventory optimization
Sparesology requires an understanding of the complete ecosystem within which spare parts are managed, and it seeks to ensure that all factors influencing spare parts management outcomes work in concert to achieve an organization's goals.
There are the four key aspects of spare parts management that span the spare parts inventory management life cycle. They are also fundamental to the idea of Sparesology:
Establishment of a spare parts management system: Guides the activity and decision making throughout the life cycle of the spare parts held in inventory. It is vital that the people engaged in establishing this system understand spare parts management, not just supply chain or generic inventory management.
Create and stocking phase: The two most important decisions in spare parts inventory management are whether or not to stock an item and how many to stock. It is these decisions that determine if you have the stock that you need and how much money you spend on your inventory. It is in this phase of the life cycle that a company has the greatest influence on its spare parts inventory, and getting these questions "right" for your circumstance makes everything else that follows that much easier
Operational phase: The longest part of the spare parts inventory management life cycle is the operations phase. While the decision to create and stock an item may be made in minutes, the item can then be part of the inventory for years or even decades. During this time, for most spare parts, the item (and the storeroom team) can be involved in a huge range of activities
Management of obsolescence and disposal: No matter how an item was first created or how long it is part of an inventory, it is almost inevitable that at some point it will become obsolete and therefore require removal and disposal.
The online resource library at SparePartsKnowHow.com is organized according to the principles of sparesology. Follow this link to find out more.

---
You Might Also be Interested in Our Acronym Explainer
---
Sparesology® is a registered trademark of Ipiaight Pty Ltd.