3. Excess Inventory is a Symptom of Other Problems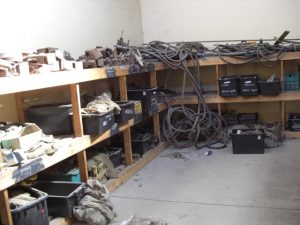 All problems end up in inventory
Continuing this series on 7 Things That Every Senior Manager and CFO Should Know About Spare Parts Management this post addresses Part 3: Excess Inventory is a Symptom of Other Problems.
Understanding Excess Inventory is Simple
Let's start with a statement of the obvious: the spare parts inventory that is in your warehouse did not get there on its own. For each individual item (SKU), somebody in your organization decided that it needed to be stocked. Somebody set the quantity. Somebody placed an order with a vendor. After that it is all just mechanics. The process takes over and the items are delivered, processed, and put in the shelf. This is not intended to lay blame on anyone but to explain the process that results in excess inventory.
Therefore, we can confidently say that companies end up with excess inventory because of the decisions they make! It is actually pretty simple.
If understanding excess inventory is so simple, why do companies have so much trouble getting this right?
Actually, that's quite simple as well, so let's peal that onion a little more.
If the purpose of any inventory is to act as a buffer between demand and supply (and it is), then the key question is: how much confidence do you have in the reliability of both demand and supply? If there are low levels of confidence, there will be high(er) levels of inventory.
People don't order excess inventory because it is fun. They establish the level of inventory that, at that point in time, they feel is the right decision for the company, based on their level of confidence. That level of confidence is based on their frame of reference.
Demand Confidence
If equipment is undersized, not correctly installed, overworked, poorly maintained, or just plain wearing out, it can become unreliable. This degrades the level of confidence in the predictability of demand. Similarly, poor planning processes, ineffective maintenance, squirrel store behaviors, requesting items that aren't used, and 'manufactured urgency' will also have a negative impact on demand confidence.
Supply Confidence
On the supply side, there are issues such as poor storeroom practices that result in low levels of accuracy, information and storeroom practices that make items hard to locate, delays in procurement process, delays with inwards goods processing, external supply chain dynamics, poor understanding of the real impact of economic order quantities, poor return to store practices, inefficient management of repairable items, ineffective communication between maintenance and the warehouse, and sometimes even the way that budgets are managed.
Again, these lists are not intended to lay blame on anyone but to expose the lie that companies have an 'inventory problem'. What they have is other problems that people try to compensated for by spending on excess inventory.
Take Back Control
For any company that has excess inventory of spare parts (and that can be holding more than you intend or just holding items that you don't really need), the problem isn't with the inventory, the problem is with the decision making and management associated with that inventory.
This is why, 'inventory optimization' software does not provide an ongoing solution for spare parts inventory optimization. Software can't fix the problems that create excess inventory. It is only by addressing these 'other problems' that companies can take back control of their spare parts inventory.


Ready to learn more?Click Here