Subject Area: Spare parts inventory optimization trap 3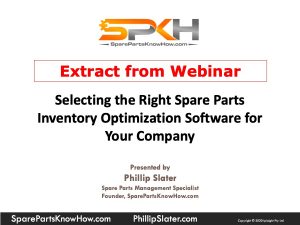 Traps to Avoid: Lesson 3
Don't judge a solution by its position on Google!
At the top of search engine results there are ads – top placement for companies that have paid for that position.
Then there is a list of companies that have, through clever website coding, convinced the search engine algorithm that they are the best choice, given your past search history. This is called search engine optimization (SEO).
These are not necessarily the best choice for you.
Please also beware comparison sites. These are usually paid ads and are often incomplete. That is, they don't include all relevant alternatives, only the ones who pay.
This spare parts inventory optimization trap 3 is explained in this short video, an edited extract from a live webinar titled: Selecting the Right Spare Parts Inventory Optimization Software for Your Company
Run time: 1:48
---
For access to this video, and all of our content, join using the button below.
If you are already registered then you need to log-in.
---
---
For information on our Pro Level spare parts management online training please visit our Pro Level page.
---



Posted by: Phillip Slater