Subject Area: Optimization Software Must Be Trusted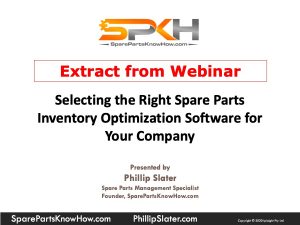 What if you spend a lot of time and money selecting optimization software only to find that the results are not trusted by the end users?
This could be a disaster for your company.
How will the end users react?
Typically, they will seek to over-ride the inventory settings, either officially or un-officially.
This will undo the purpose of the software in which you have invested.
The key: optimization software must be trusted by the whole team.
This is explained in this short video, an edited extract from a live webinar titled: Selecting the Right Spare Parts Inventory Optimization Software for Your Company
Run time: 2:24
---
For complimentary access to this video and our entire Base Level content, register using the button below. We will also keep you up-to-date on content and courses.
If you are already registered then you need to log-in.
---
---
For information on spare parts inventory characteristics and our spare parts management online training please visit our Pro Level page.
---



Posted by: Phillip Slater