Two-day Workshop
Tuesday 23 – Wednesday 24 March 2021
Online Event – AEST Timezone
Presented by Phillip Slater

Subject Area: MRO and Critical Spare Parts Optimization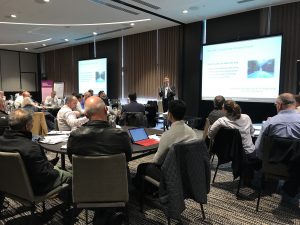 In this interactive online workshop you will learn the unique issues relating to managing critical spare parts.
The workshop will cover everything that you need to know to not only optimize your spare parts inventory but to also reduce inventory costs, minimise the impact of obsolescence, improve decision-making, deal with digitisation and increase stakeholder engagement.
Presented over two days, the workshop will cover the following topics:
The Unique Issues with Managing Spare Parts Inventory
In the introductory session there will be an overview of the spare parts inventory life cycle and we will identify what are MRO and spare parts and why they different to other inventory types.
Where Does All the Money Go?
Financial understanding is critical for putting spare parts management into the business context. This interactive session explores spare parts financial considerations and reporting.
What You Should Stock and Why
The most important issue at the beginning of the spare parts life cycle is asking whether or not to stock an item at all. This session identifies 7 questions to ask before deciding what to stock.
Critical Spare Parts – Deciding How Much is Enough (and how much is too much)
The second most important issue is deciding how many of an item to stock. This session will review techniques for determining spare parts criticality and from that setting justifiable ROP and ROQ levels.
The Best Practices That Are Proven to Make a Difference to Your Results
What does good spare parts management 'look like'? In this session we will identify seven practices that make a genuine difference to spare parts inventory outcomes.
Spare Parts Policies – What You Need and Why
Without appropriate policies there is no direction. In this session we review the suite of policies required to effectively manage spare parts inventory.
Inventory Optimization – The Hard Way and the Easy Way
This session explores three different techniques for spare parts inventory optimization and explains why some approaches to optimization don't actually optimize at all.
Obsolescence is Inevitable – Let's Get it Right
End of life management is an often-neglected part of spare parts inventory management. This session reveals the big lie of spare parts obsolescence and explains how to better manage the spare parts end-of-life.
The Digitization of Spare Parts Management
Technology is changing at an ever-increasing rate and the impact of this on spare parts management is not to be underestimated. In this session we will explore the impact of technology changes and identify six trends that will (most likely) have the most impact in the near future.
Stakeholder Engagement
Understanding the practical side of spare parts management is not enough. If companies are going to get better results, they need to implement change. This involves stakeholder management.

For more information on this MRO and Critical Spare Parts Optimisation Workshop and to download an information pack, please click here.