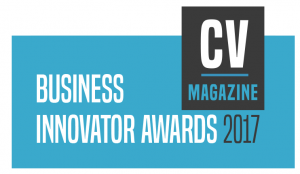 SparePartsKnowHow.com, the leading online training resource for people engaged in spare parts inventory management, has been recognized with a 2017 Business Innovator Award from the UK-based Corporate Vision Magazine.
Corporate Vision says of the awards:
The 2017 Business Innovator Awards have been designed to celebrate the trailblazers of the corporate sphere, striving ahead of their competitors to achieve remarkable results. These awards pay homage to the commitment, determination, and skill that has been displayed by the game-changers of a variety of industries.

Every one of our winners can be rest assured that their recognition was truly deserved, as our in-house research team carefully analyse everything from a nominee's region to their performance over the past 12 months, their commitment to innovation, even their methods to ensure that only the most deserving names walk away with one of our prestigious accolades.
SparePartsKnowHow.com was recognized via its holding company, Initiate Action Pty Ltd. The award specially cites Initiate Action Pty Ltd as the Best Spare Parts Management Consultancy in Australia.
Other winners are from fields as diverse as steel fabrication, waste water engineering, RFID tagging, materials technology, and power train solutions.
The awards have a global spread with winners coming from Sweden, USA, UK, Mexico, Canada, Russia, and Australia.
Phillip Slater, Director of Initiate Action Pty Ltd and Founder of SparePartsKnowHow.com said,
We are thrilled that our work over the past few years has been further recognized and that SparePartsKnowHow.com continues to be acknowledged as a game-changer in the field of spare parts inventory management training.

In 2012 SparePartsKnowHow.com was similarly recognized by the Logistics Association of Australia with a Leadership Award in Logistics Education and it is pleasing to see that our online training business is now receiving international award recognition.
For more information on the awards please visit www.corp-vis.com/2017-business-innovator-awards.
SparePartsKnowHow.com provides online training in spare parts inventory management. Currently 11,700 people are part of the SparePartsKnowHow.com online communities. For more information please visit https://SparePartsKnowHow.com.