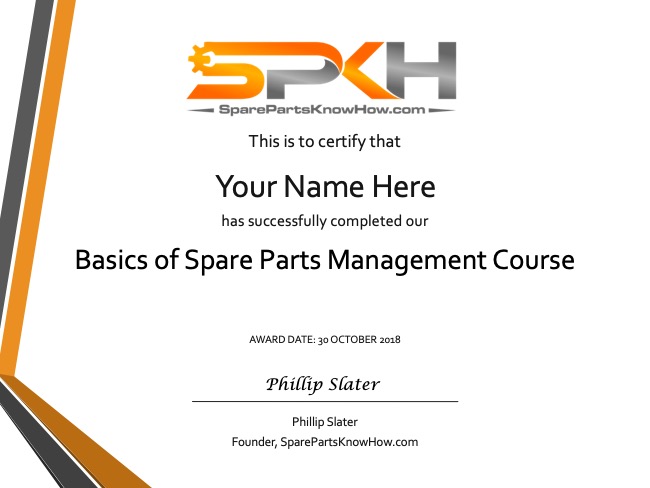 Course code: IL01
Delivery method: Instructor-led, online
Instructor: Phillip Slater
Prerequisites: None





When does this course start? Click here to visit the timetable page.

---
Training Course Content
---
The instructor-led Basics of Spare Parts Management training course provides you with a general understanding of spare parts inventory management, teaches you how to identify critical spares, and how to determine the most appropriate ReOrder Point (ROP) and ReOrder Quantity (ROQ).
---
Training Course Structure
---
The instructor-led Basics of Spare Parts Management Training Course consists of 4 online sessions, utilizing material from two training modules.
Session 1: Introduction to spare parts inventory management and understanding the big picture
Session 2: Financial principles and key considerations for managing inventory
Session 3: Safety stock, capital equipment, first time buy, and identifying critical spare parts
Session 4: Deciding what to stock, forecasting, and calculating the ROP and the ROQ
Please note that all course content is provided in the course modules online.

---
What You Will Learn
---
The characteristics that differentiate spare parts inventory from other types of inventory.
The 5 common supply chain techniques that should not be used with spare parts inventory.
How spare parts management fits into the big picture of operations management.
The 5 key financial principles for spare parts management.
How to identify and interpret the key financial reports associated with spare parts management.
The 7 questions that need to be asked before deciding whether or not to stock an item in inventory.
How to determine the requirements for selecting and stocking spare parts for new capital equipment (first time buy).
How to identify critical spare parts.
How to determine appropriate re-order points (ROP) and re-order quantities (ROQ) – complete with exercises to test your know-how.
---
Who Is It For?
---
The instructor-led Basics of Spare Parts Management training course is for people engaged in day-to-day operational decision-making and who don't yet need the higher level tactical information in our advanced programs.
This course is for companies that keep spare parts to support the maintenance and operations of their own assets and equipment. This is often referred to as MRO.

---
Training Course Length and Time Commitment
---
This course is delivered over a period of 4 weeks. During that time we hold four 90-minute online sessions.
Following an initial orientation session, participants get access to the course content. This is one week before the first online session.
It is expected that participants will review the specified lessons and complete the exercises prior to each online session.
We recommend a time commitment of 3 hours per week for study plus 1.5 hours for the online sessions.
From the initial orientation session participants receive 3 months access to the course content and use of our online coaching for follow up and review.

---
Online Coaching and Tutorial Support
---
In addition to the live online sessions, online course-related coaching and tutorial support is provided via our
exclusive online coaching
function.
---
Training Course Assessment
---
Each module includes an online quiz. Successfully completing each of the online quizzes leads to the award of our
Basics of Spare Parts Management Course certificate
. We set the 'pass' level for these quizzes at 80%.
Please note that the course certificate will be forwarded to the registered email address within 7 days of course completion.

---
Training Investment
---
Total investment in this instructor-led program is $550.00
Payment is accepted via credit card and PayPal.



For other enrollment options please visit our How to Enroll page.


Refund policy: for instructor-led training we provide the following refund policy.
Up to 2 weeks prior to course commencement cancellations are allowed but will incur a $50.00 admin fee.
Within the 2 weeks prior to course commencement there is no refund for cancellation, however, you may switch courses or substitute another participant.
Once the course commences there are no refunds, switching, or substitutions.
Prior to course commencement we will provide links for the online sessions and for access the course content.