Subject Area: Artificial Intelligence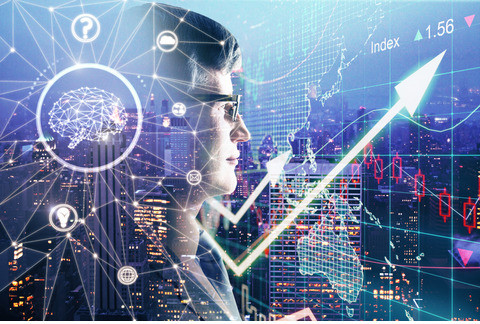 ChatGPT was released for public access in November 2022 and since then reports and updates have been constantly in the media. Depending on your perspective this has led to either alarm or excitement.
In the world of schooling and academia there appears to be alarm, as students can use AI to 'write' essays and reports that they could not write on their own merit. This has led to investments in software to detect AI generated submissions.
In the world of marketing there appears to be excitement, as AI will help marketers write better copy, headlines, and emails.
But what about the real world where people need analysis, insights, and accurate direction to help guide operational decisions and improve their results?
This is where I have spent my entire career, so I decided to investigate if that career is at risk from AI.




---
What are Artificial Intelligence and Chatbots?
---

To start, let's define AI and Chatbots.
Artificial Intelligence is defined by Wikipedia as 'perceiving, synthesizing, and inferring information—demonstrated by machines, as opposed to intelligence displayed by non-human animals or by humans.'
Colloquially, I think it can be described as 'machines thinking like people'.
AI has been around for a long time, but I think that it was the sophisticated evolution of chatbots that made it more accessible for the public.
Chatbots are defined by Wikipedia as 'a software application that aims to mimic human conversation through text or voice interactions, typically online'.
Colloquially I am going to describe this as 'machines talking like people'.
(Yes, I am treating text as 'talking'.)
Put together, they provide the ability for the user to ask questions and receive easy to consume answers. And not just answers, actual 'product' in the form of, say, articles or essays. This is much more than a simple Google search.
As the author of nine books, advisor to asset-intensive companies, and the Founder of an EdTech website, this technology appears to be getting ready to replace me!

---
Which Chatbot Service to Try?
---

To investigate this my first step was to choose a chatbot to try.
There are several high-profile services available: ChatGPT, BingChat, Jasper, YouChat, Chatsonic, Google Bard, Socratic, and maybe more.
Mostly they seem to be powered by either a version of ChatGPT or by Google.
ChatGPT is the best known, at least from the media that I see. However, I chose not to use ChatGPT as at the time they required me to establish an account. Being uncertain about how they would use my data I decided to look elsewhere. (Not suggesting anything here, just showing my cautious nature.)
Following a conversation with a friend that is 'into this stuff', I decided to use Perplexity AI. This chatbot uses a similar method to ChatGPT but requires no sign up and is available via a mobile app.

---
What About the Query Results?
---

The real test of course is to see what my queries produced.
My first query was, 'Write 500 words on spare parts management' and I have to say that the output was impressive.
I have posted that output here for you to read.
The Artificial Intelligence article suggests nine steps for spare parts management, which all made good sense to me.
It also provided five sources for the article content, complete with links to the source content. However, in this article it did not indicate which part of the content came from which source. As an author I think proper attribution is important.
Impressively, the article is 497 words – a feat of accuracy that I could never achieve in my writing for magazines!
Maybe the real power of this form of AI is the ability to keep 'digging' into the information via the references and links in the text.
Let me explain.
The first step suggested in the article was to 'write a spare parts inventory policy' so I asked the chatbot to do that for me.
That output is 241 words.
Was it helpful?
I'll discuss that in a minute, but you can read that output here.
One of the sources for that output was my own website, SparePartsKnowHow.com, so I asked for information about that website. This was accurate and concise.
In that article there was a hyperlink attached to my name, so I followed that and was presented with a bio about me.
This was mostly accurate, picking up information from multiple sources. It even noted that my book Spare Parts Inventory Management, was, on release, #1 in its category on Amazon.com. Nice!
But not all information was up to date.
It stated that I am a committee member of the Asset Management Council (I was for a couple of years about 10 years ago but currently am not) and that I am a Fellow of the Australian Institute of Company Directors (again, I was but resigned from the AICD in 2020).
It looks like the source for these credentials was my own websites. On checking those sources, I noticed that the chatbot left out the start and end periods for each of those credentials – which I think is important if you are publishing something about someone.
More importantly, it was easy and simple for me to follow up and get more information, see the sources, and go to those sources. This appears to be a key advantage of this chatbot (and I assume the others also).
However, like most online information, we need to exercise some caution about the immediate information presented. Because the chatbot picks up content from existing online articles there is no guarantee that it is correct or even useful. That's the Internet for you.
---
Was the Article and Policy Advice Helpful
---

The real test for AI is this: are both the article and policy advice helpful?
The article on spare parts management looks like it would be a helpful introduction for many people.
The space for detail was limited as I only asked for a 500-word summary. Given that, it is a pretty good summary of spare parts management, what it is, why it is important, and what you need to do.
Conversely, the policy output was, I think, not so helpful.
Not because it was wrong or inaccurate (it wasn't) but because it was too high-level to be of any practical use.
For example, a statement such as, 'When developing a spare parts inventory policy, there are several factors to consider, such as lead time, minimum order quantity, storage space, and shelf life' is no doubt true but is of little use to an end user that needs consistent and auditable stocking decisions.
What they need is specific direction and guidelines. Crafting those requires insight into the unique nature of the individual operation. By that I mean things like structure, maintenance maturity, decision-making tools, and staff training.
The chatbot produced the type of generic, nice sounding, yet ultimately meaningless set of words that I find in stocking policies all the time. It is one of the main reasons that companies find themselves with stock level problems – usually too much inventory because there are no genuine parameters for decision-making.
Which leads us to the big question: Will AI end my career?
---
Will Artificial Intelligence End my Career?
---

I don't think so. Not yet anyway.
There are a few reasons why I think that I will still be able to feed my family.
While the sources for the content are noted, there is no way of knowing if the sources are reliable or if they are cited because they are easiest to find.
The chatbots can't recognize the nuance of individual situations. In the real world understanding the difference between theory and practice is critical. Relying on generic theory can lead to trouble.
The chatbots can only access what's publicly available online and usually, like much of the media, the 'good stuff' is behind a paywall of some kind.
People don't know what they don't know. It is hard to ask the right question if you don't know what question to ask.
The chatbots can't do abstract thinking. A key to problem solving is the ability to connect points of information that may not be obvious factors or even directly connected.
Learning is not a linear path it usually requires checkpoints and clarification that random articles online cannot possibly provide.
---
Phew! So I Can Still Feed My Family
---

Rather than end my career, I think that chatbots might well extend it.
The media and academia paint the promise of AI as giving people the opportunity to produce content that they could not otherwise produce. It is seen as a way to short cut the progression of learning and experience.
However, I think the opposite may be true.
The real opportunity here may actually be for people who know and understand what's important, and how to apply it, to thrive even further.
Rather than close the gap, this technology could widen the gap between those who are trying to learn and those who really understand the dynamics of spare parts management and what's important.
If you want to stay relevant and not get left behind by the chatbots, then you must become one of those people.
The irony is that you will only do that through accessing the type of training that provides course and content structure, learning support, and convenience of access.
---
---
100% online
Study at a pace and place that suits you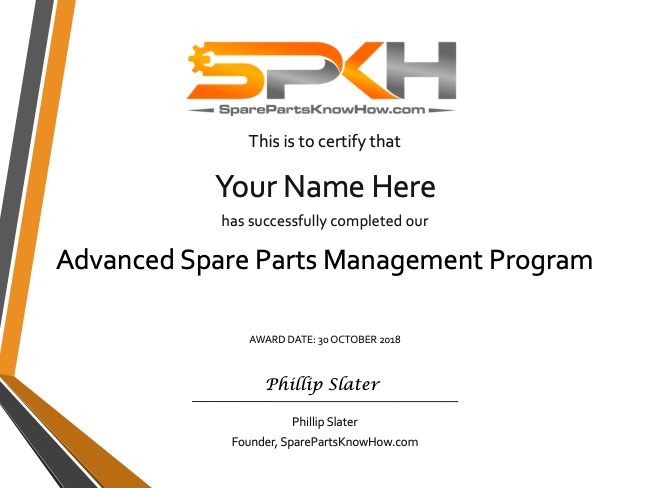 The Advanced Spare Parts Management Course covers all the issues faced during the spare parts inventory management lifecycle.
Completing this course equips you with the know-how and skills to effectively manage all aspects of spare parts inventory.
The course specifically focusses on MRO and spare parts that are held in support of equipment operations and maintenance.


---
---


Posted by Phillip Slater