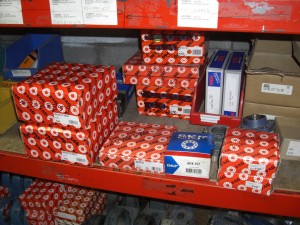 Understanding the definitions used in spare parts inventory management is vitally important.
For without a common understanding of terms it is difficult to communicate effectively.
Imagine what happens when someone uses a term such as SKU in a conversation or email and the person listening or reading doesn't understand that term. It is rare for people to just own-up and admit that they don't understand the term being used.
That's why, at SparePartsKnowHow.com, we keep and update a glossary fo terms. This to help everyone get better at communicating their needs and intentions in spare parts inventory management.
Stock Keeping Unit (SKU) Definition
Stock Keeping Unit (SKU) is an inventory management term that

---
The remainder of this article is available to members and subscribers only.
For complimentary access to this article and our entire blog archive, register using the button below.
We will also keep you up-to-date on new content and courses.
---
---
You Might Also be Interested in Our Acronym Explainer
---