The Best Resources I Have Every Studied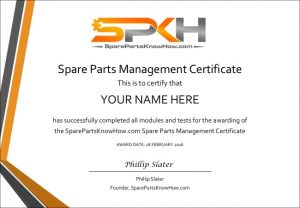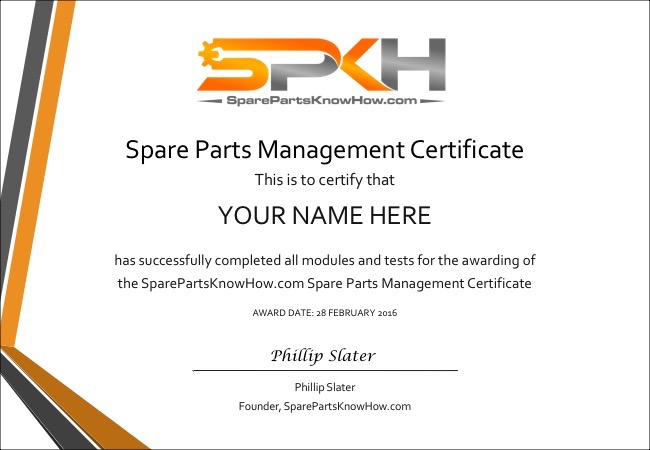 My career has been spent in Spare Parts, Materials and Warehousing in support of operations and maintenance (O&M).  Until now, my knowledge, skill and ability has been largely learnt on the job as well as working alongside some very experienced maintenance people and engineers. 
Over the years I have tried to get some formal training in the area of spare parts but there was not much available.  The best I have managed was some publications from the US.  I thought these were OK but each had its own short comings or lacked detail and process.
 
Spare Parts Management Certificate
Since then, I have studied Phillip Slater's book, Smart Inventory Solutions, and completed the Spare Parts Management Certificate at SparePartsKnowHow.com.  These have been the best resources I have ever studied.  The material is directed specifically at Spare Parts and Materials for Equipment and Operations and Maintenance.
 
If you review and work through the material on the website, you will learn how spares inventory is different to other types of inventory and specific ways to look at and handle it physically and financially. 
The material will enable you to develop policies, procedures and reporting and expose you to best practices.
SparePartsKnowHow.com Makes it Really Easy
There is a huge amount of material and resources available on the website.  It is presented in an easy to understand format.  The webinars and videos make it even easier.  You can repeat any part as often as you like, 24/7.
 
There is material here that you won't find anywhere else. 
If you are involved in spare parts and materials for operations and maintenance you would be mad not to take advantage of this resource.
 
Adrian Hanrahan
Spare Parts Management Specialist in Oil & Gas
Review Adrian's LinkedIn Profile