Subject Area: Software demos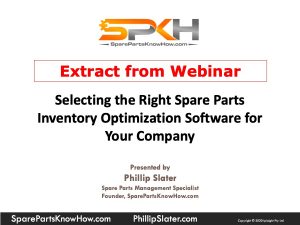 Traps to Avoid: Lesson 6
Some companies make it very hard for you to get a software demo because they are afraid of wasting time with "tire kickers".
They want you to demonstrate to them that you are worth their time!
However, if a company is hard to deal with before they get your money, just imagine how hard they will be to deal with after they get your money!
Make sure that any software demo focusses on the issues important to you and your scope and problem definition.
Sometimes vendors work through their own demonstration process and focus on their strengths, but you want to focus on your needs.
This spare parts inventory optimization trap is explained in this short video, an edited extract from a live webinar titled: Selecting the Right Spare Parts Inventory Optimization Software for Your Company
Run time: 1:54
---
For access to this video, and all of our content, join using the button below.
If you are already registered then you need to log-in.
---
---
For information on our Pro Level spare parts management online training please visit our Pro Level page.
---



Posted by: Phillip Slater