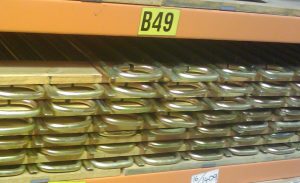 One of the major issues faced by almost everyone that manages spare parts is: what to do with obsolete and excess spare parts inventory? One option is to sell the items for essentially scrap value but this rarely raises more than 5c on the dollar.
Recently I met Brian Burns who has worked out how to achieve returns of 25-40c on the dollar by selling obsolete and excess spare parts on eBay and the open market. The following is a transcript of a recent interview.
Phillip: Hi Brian, perhaps the best way to start is for you to tell us a little about yourself.
Brian: Currently I am an Asset Manager and Open Market Director / Manager of Industrial Equipment in the US steel industry.
Phillip: How did you first get started selling obsolete and excess spare parts on eBay?
Brian: I first started selling obsolete and excess spare parts through eBay with my personal interests of boating and street rod building, and by reselling some freight salvage components which were procured through local and regional auctions. This was in the early days of e-commerce.
Phillip: So how did you start dealing with obsolete and excess spare parts in this way at work?
Brian: Professionally it just seemed like the obvious thing to do. I started exploring the open market opportunity with my current position, documenting products and savings, piece by piece to show that it would save money. Then I proposed a complete process for taking obsolete and excess spare parts that had value, and by applying my component knowledge, showing that we can do better than scrap pricing. The rest is history.
Phillip: How do you decide what to place in the open market?
Brian: There is a lot of analysis involved with choosing what to list and the final decision is based on the ROI that we can achieve. It's a balance between the time spent and the return we can get. Time is money and so the process needs to be very quick.
Phillip: Before moving to the open market you must have tried other approaches, what are the problems that you experienced with other methods for disposal of obsolete and excess spare parts?
Brian: The biggest problem or concern I've always had with spare parts is people not doing anything. The easiest thing to do is to just let parts sit that aren't needed anymore. Culture plays a key role in the methodology that has put us in our current state. It seemed to some people that it was good to always have extra parts when they failed. I've also seen people reduce inventory by throwing items away. This just seemed like a waste of money.
Phillip: What's your approach?

— The content below this line is only visible to logged-in members —





Ready to learn more?Click Here