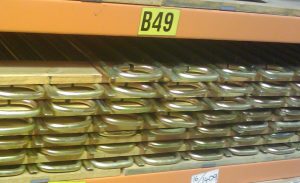 One of the major issues faced by almost everyone that manages spare parts is: what to do with obsolete and excess spare parts inventory? One option is to sell the items for essentially scrap value but this rarely raises more than 5c on the dollar.
Recently I met Brian Burns who has worked out how to achieve returns of 25-40c on the dollar by selling obsolete and excess spare parts on eBay and the open market. The following is a transcript of a recent interview.
Phillip: Hi Brian, perhaps the best way to start is for you to tell us a little about yourself.
Brian: Currently I am an Asset Manager and Open Market Director / Manager of Industrial Equipment in the US steel industry.
Phillip: How did you first get started selling obsolete and excess spare parts on eBay?
Brian: I first started selling obsolete and excess spare parts through eBay with my personal interests of boating and street rod building, and by reselling some freight salvage components which were procured through local and regional auctions. This was in the early days of e-commerce.
Phillip: So how did you start dealing with obsolete and excess spare parts in this way at work?
Brian: Professionally it just seemed like the obvious thing to do. I started exploring the open market opportunity with my current position, documenting products and savings, piece by piece to show that it would save money. Then I proposed a complete process for taking obsolete and excess spare parts that had value, and by applying my component knowledge, showing that we can do better than scrap pricing. The rest is history.
Phillip: How do you decide what to place in the open market?
Brian: There is a lot of analysis involved with choosing what to list and the final decision is based on the ROI that we can achieve. It's a balance between the time spent and the return we can get. Time is money and so the process needs to be very quick.
Phillip: Before moving to the open market you must have tried other approaches, what are the problems that you experienced with other methods for disposal of obsolete and excess spare parts?
Brian: The biggest problem or concern I've always had with spare parts is people not doing anything. The easiest thing to do is to just let parts sit that aren't needed anymore. Culture plays a key role in the methodology that has put us in our current state. It seemed to some people that it was good to always have extra parts when they failed. I've also seen people reduce inventory by throwing items away. This just seemed like a waste of money.
Phillip: What's your approach?
Brian: I like to break down the list of items, one by one, and resolve their future individually. In industry, vendors aren't as willing to take items back as they are in a normal retail business so we need to consider a range of options. Some components, that might be specific to a certain piece of equipment, can be recycled. Selling to a surplus house will give a quick payback but not always the best return of value. Having in place a documented process that guides decision-making on different types of obsolete and excess spare parts is the key with this solution.
Phillip: What type of parts do you sell?
Brian: It really covers the range across electrical, hydraulic, and pneumatic components.
Phillip: And who do you sell to?
Brian: As you gain experience with this process you become aware of the key players. There are those who want certain parts for resale and there are a lot who use them in their own current operations. If you have a component that is still being sold, but no longer being used at your site, then resellers or another company would want to buy this. If priced right, these can sell pretty quickly. The thing to remember that everybody's definitions of obsolete and excess are different.
Phillip: Do you have any examples?
Brian: There is a spring reel and cup component that we don't use anymore so we have identified it as obsolete in our plant. However, the part is still sold and used by others in the industry and they now cost much more than we paid years ago. We have sold for our price to the same buyer three times in the past year, for a total 16 parts. I don't want to talk about the specific price but I can say that they saved $80 per part, for a total procurement saving of $1,280.00 and we achieved an ROI of 90% based on the fees and time spent. It was a real win-win.
Phillip: So, who actually has the eBay account – you or the company?
Brian: Legally, it is me. If you are familiar with signing up for eBay you need to have a confirmed email and billing resource such as a credit card. Therefore, it comes back to who can sign for the credit card. My company now has a process around this and have started another site for our sister plant. It takes company support to make this process happen. From the CEO to stores clerk this process has worked great.
Phillip: Can you explain the process? Who decides what to list, how the sale is managed, who signs off on the pricing etc.
Brian: There is a process that reviews every part before it becomes available for the open market. We have worked very hard over the last year in reviewing over 10,000 parts to justify their need and current use. We started with the highest value of course and worked our way down to components that can be deemed non critical and vendor managed or purchase on request. These decisions were made with a team of leaders from all areas that are familiar with their use, along with our CMMS system which shows previous use and the equipment that they were most likely used on. Parts that are not needed are then turned over to me for an Open Market Review. I then have a form that I've put together to process and evaluate an Open Market Item. This form takes in values, quantity, description, photos, open market time frame, payment options, shipping and meeting comments. I meet with a small group of management with my suggested price and time frame and we come up with a price range for acceptable offers. Once this form is signed off, I list the item based on known information and manage it till sold. Once sold all the closing paperwork is sent off to corporate security to file for process evaluation and audit. This is my way to cover my ownership of the process.
Phillip: What about the logistics? Someone has to package your parts and organize the transport. How does that happen?
Brian: Anyone that enjoys selling as much as I do would not allow someone else to damage their reputation so we need to make sure that the customer received the product as described and that it is safely delivered as soon as possible. It does take a team and my stores group does a great job at packaging up the bigger items and making sure that the documents are in order so that I can send tracking information to the buyer ASAP. Bigger items like motors and multiple items that require more logistics are handled on a case-by-case basis. Once all the paperwork is complete and payment confirmed positive feedback is left for the buyer and the documents scanned for my files.
Phillip: I understand that you also buy on eBay, is that correct?
Brian: Purchasing is where the real savings come into play. Having a sound technical understanding of what you are buying is vital in making a successful buy. Knowing who and where you're buying from is a key component to trusting the item description also. Understanding what your need is and what the part does is as important as the part number that might be on the item. Even with new parts you can sometimes save thousands over your local parts house and can usually get it faster because the vendor has the item ready to go – otherwise it would not be listed. All items are inspected and tested prior to use or stocking in inventory. Safety will not be compromised for saving a dollar. Many people don't realise that there are suppliers out there who buy out store rooms from closed plants that then offer the items on eBay also. Often these items are new and still in the original box.
Phillip: Tell us about some the savings you have made through buying on eBay.
Brian: We have been saving over $60,000 per year for last four years by using the open market. But it is not just about the purchasing savings. We have some older drives and equipment that aren't supported by the OEM anymore and when we call for parts we find that they aren't available. In one case of a failed drive, we could have taken days to procure and install a new drive, at $75,000 plus labour and downtime, but instead we took a few minutes to locate a 16-ohm resistor to repair the drive, at a cost of $9.95 each and paid for overnight shipping ($350). The benefit in this case is really the cost avoidance form not buying the expensive drive and incurring the downtime.
This isn't the only case where this has occurred. We've become excellent at repairing some key pieces of equipment by sourcing components on the open market and saving thousands over sending them in for rebuild or repair. In addition to the savings, involvement in the repair, and seeing how the equipment functions, has been a great teaching experience for the newer electricians.
Phillip: What about quality? When you buy other people's obsolete and excess spare parts on eBay how do you know that you are getting good parts and not junk?
Brian: eBay has been very proactive in making sure that feedback is recorded and this is what you can judge the seller on. You also need to know what you're buying and read how the part is described. The search engine is a very good tool to start with, along with helping to understand the market value for a component. We don't mess around with saving a couple dollars on an eBay item over a supplier. We also don't buy with the intent to stock unless it is an identical part that is deemed to be held as stock on hand. Your results are very positive when you take the necessary precautions.
Phillip: What about the potential that you are buying stolen goods? Is that a genuine risk?
Brian: If the price is too good to be true and they have no feedback as a seller then my suggestion is to move on. I don't see this much with my searches for the industrial components, it is probably more of a concern for personnel goods. Over the years, I have bought from a lot of the same suppliers and when looking at a few items that are identical, it's pretty easy to choose the right supplier.
Phillip: I am guessing then that this isn't for everybody, that a degree of technical know-how is a must. Is that correct?
Brian: I would agree. If you are fortunate to have a new turnkey mill with OEM spare parts on the shelf then this wouldn't be your first choice. It takes technical knowledge and ownership of the process to have a return on investment.
Phillip: How much time does it take? Is it just you or do you have a team that works on this?
Brian: It varies depending on what stage you're at. Starting is the hardest part. It takes a team to decide on what items go to the open market. Then the time it takes depends on issues such as the individual level of knowledge and if you have a seller or a buyer for the trade. I look at it as if I was spending my own money, how would I spend it or save it? I should also add that for me it all started by me owning my results for my budgets and for wanting to have reliable equipment at the best cost. Anyone thinking about doing this should ensure that they have a way to track and measure the results.
Phillip: Ok, so do you have any final advice for people who might be considering this option of obsolete and excess spare parts?
Brian: Take it one step at a time. Start small, get some little successes and then move on as you feel confident in your process and success.
Phillip: Thanks Brian I appreciate you taking the time to answer these questions and hopefully help your fellow practitioners.
Brian Burns is an Asset Manager and Open Market Director / Manager of Industrial equipment in the steel industry in the USA. Brian has spent +26 years working in the steel industry in operations, maintenance, and management. Brian also has international experience. After completing college Brian thought the future would be all about sports and coaching. However, he chose to follow in his father's footsteps into the steel industry. The physical work and challenges were part of the attraction but also that coaching was still available through assisting others within the industry. Brian has a bachelor's degree and Associates Degree in Industrial Technologies plus and electrical license and is a Certified Reliability Leader and Ultrasound Training Leader.
Phillip Slater is a spare parts inventory management specialist and the Founder of SparePartsKnowHow.com, an online business that focusses on spare parts inventory management training. Phillip is the author of 9 books and his most recent book, Spare Parts inventory Management, was the #1 New Release in a range of categories at Amazon.com.