Subject Area: Procurement Outsourcing for Indirect Materials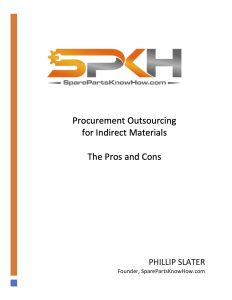 Do you manage or have responsibility for indirect materials or MRO procurement?
Do you want to understand why the procurement of indirect materials and MRO is different from direct materials?
Do you realize that companies can save huge sums through procurement outsourcing for indirect materials and MRO?
Outsourcing has steadily but continuously increased over the past few decades.
What was once seen as unusual or situation specific is now commonplace. In today's world almost any function can be outsourced.
Indeed, 'business guru' Peter Drucker is reported to have said, 'Do what you do best and outsource the rest', thus promoting the idea that a company should outsource all 'non-core' activities. That is, activities that are not part of how a company earns its revenue or that provide their competitive advantage.
This white paper explores the issues associated with the procurement of indirect materials and MRO and is complementary to the webinar that you can find: HERE.
The key issues discussed in this white paper include:
The differences between indirect and direct procurement
The unique management cost profile of each procurement type
The MRO procurement complexity trap
The pros and cons of procurement outsourcing
The results of an outsourcing success story
---
This white paper is complimentary for our Pro Level.
---


This guide was created by Phillip Slater