Subject Area: Optimization Software Selection Team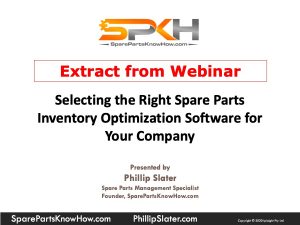 The best software in the world is of no use, if the results are over-ridden.
Therefore, before getting too far into a selection process you need to identify an optimization software selection team that includes a representative of each of the stakeholder groups: maintenance, reliability, engineering, procurement, storeroom management, finance, and IT.
The software selection team needs to be directly involved in defining the problem that the software is intended to solve, identifying the benefits, setting the budget, reviewing the options, and selecting the final choice.
This is explained in this short video, an edited extract from a live webinar titled: Selecting the Right Spare Parts Inventory Optimization Software for Your Company
Run time: 2:21
---
For access to this video, and all of our content, join using the button below.
If you are already registered then you need to log-in.
---
---
For information on our Pro Level membership please visit our Pro Level page.
---



Posted by: Phillip Slater