Subject Area: Optimization Software Selection Goals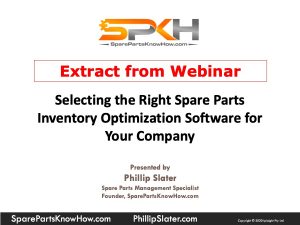 Before taking your software selection process any further you must be clear about your optimization software selection goals.
Failure to frame the goals and issues from the stakeholder perspective and from that develop the problem definition will derail any attempt to gain support for the required solution.
The problem definition, which follows on from your optimization software selection goals, is addressed in the next video in this series.
Note that for greatest effectiveness the problem definition must be specific and include data.
This is explained in this short video, an edited extract from a live webinar titled: Selecting the Right Spare Parts Inventory Optimization Software for Your Company
Run time: 1:27
---
For access to this video, and all of our content, join using the button below.
If you are already registered then you need to log-in.
---
---
For information on spare parts inventory characteristics and our spare parts management online training please visit our Pro Level page.
---



Posted by: Phillip Slater