Subject Area: Optimization Software Selection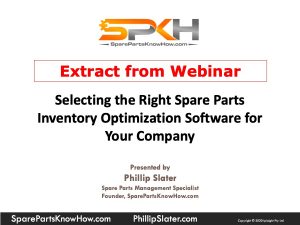 What is the impact of selecting the wrong optimization software?
Not so wrong that it doesn't work, but sufficiently wrong that the software doesn't provide the best results possible?
How much would it cost your company if the results are 'good enough' but not as good as they should be?
Is 'getting a better number' really the goal?
The result could be inappropriate recommendations, waste of hours (months?) of staff time, and the erosion of trust with the end users.
Optimization software selection is not trivial.
This is explained in this short video, an edited extract from a live webinar titled: Selecting the Right Spare Parts Inventory Optimization Software for Your Company
Run time: 2:56
---
For complimentary access to this video and our entire Base Level content, register using the button below. We will also keep you up-to-date on content and courses.
If you are already registered then you need to log-in.
---
---
For information on spare parts inventory characteristics and our spare parts management online training please visit our Pro Level page.
---



Posted by: Phillip Slater