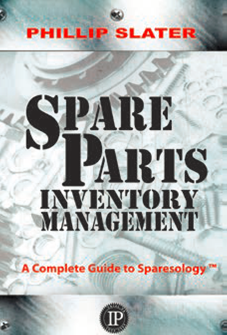 This text is a transcript of an interview by Carmela Mayson of Industrial Press.
Carmela:
Phillip Slater has been described as "truly one of the leaders in the MRO information segment" and "the global spare parts guru." Today we talk with the author and business improvement expert about his latest book Spare Parts Inventory Management: A Complete Guide to Sparesology®.
This groundbreaking title is the first to address the topic of spare parts inventory by examining the entire spare parts management life cycle. Not only does Phillip identify the issues but, importantly, he proposes answers.
Phillip's other highly effective titles include A New Strategy for Continuous Improvement: 10 Steps to Lower Cost and Operational Excellence and Smart Inventory Solutions: Improving the Management of Engineering Materials and Spare Parts, both published by Industrial Press.
Phillip, you are so well known in your field. Would you tell us a little bit about your background and what led you to become involved in the spare parts industry?
Phillip:
First, thank you for that kind introduction.
I actually started my career designing warehouse racking and conveyor systems and then worked in engineering, maintenance, and operations in the plastics packaging industry, and so I have been involved, one way or another, in spare parts management since completing an honors degree in mechanical engineering in 1985. Over the years I have experienced all of the key aspects of spare parts management – maintenance, procurement, storeroom management, supply chain, finance, and of course, leadership. It is this range of experience that enabled me to develop the insights that get translated into my work and the books that I write.
Carmela:
What were some of the most fun projects you have worked on?
Phillip:
Over the years I have worked across 35 countries and I find the international aspects of my work most exciting. Meeting people from different countries and cultures has been a key highlight of my career. Beyond that my greatest satisfaction comes from helping companies transform their skills and processes to produce new, higher, levels of performance. This is something that I have achieved during both my career in manufacturing and throughout my consulting career.
Carmela:
In addition to writing and consulting engagements, what else have you been working on?
Phillip:
My major project, outside of writing and consulting, is the development of a website providing online training in spare parts inventory management – SparePartsKnowHow.com. Currently we provide five online training courses as well a 'resource library, and online coaching.
Carmela:
Your new book discusses the whole spare part life cycle, from initial purchase to final disposal. What does a spare part life cycle really entail and what are the crucial issues?
Phillip:
In terms of spare parts management, the life cycle really starts before the initial purchase, with the decision on whether or not to stock the spare part in the first place. This is part of what is described in the new book as the Create and Stock phase. What I find interesting is that this is the point in time where companies have the greatest influence on their stock levels but where they pay the least attention!
The life cycle then moves through the Operations phase, where the item is used and then replenished. The key problem that companies have here is coordinating their information and activities across the range of departments involved.
Finally, the life cycle moves into the Obsolescence and Disposal phase and here companies are too slow to react and that's why they end up holding excess stock of obsolete items.
Carmela:
"Sparesology®" is an intriguing word, and one that you coined. You have said it is a practice that involves so much more than inventory optimization. What is this concept all about?
Phillip:
The problem that I see with spare parts inventory management is that it is too often perceived in a one-dimensional way. That is, typically, either optimization, or managing slow moving stock. The practical reality is that achieving the best results in terms of availability and inventory investment requires an holistic approach covering the entire life cycle and ensuring that all factors influencing the spare parts management outcomes work in concert to achieve the organization's goals.
Carmela:
Who are the key players in spare parts inventory management?
Phillip:
There are actually many 'players' and they each have an important role to play. For example, maintenance needs to provide quality forecasts and data on needs, the storeroom needs to manage the storage and process information in an accurate and timely manner, procurement needs to purchase in a manner consistent with inventory goals, finance needs to understand that not all inventory is bad. It is by getting all of these elements working together that the best results are achieved.
Carmela:
Who can most benefit from the discussion of the complete "ecosystem" of spare parts inventory as discussed in your book?
Phillip:
Ultimately, the company benefits via reduced downtime, reduced procurement expense, lower inventory investment levels, and improved workforce efficiency. Each department benefits in its own unique way through fewer surprises and having what they need, when they need it.
Carmela:
What does the future of the spare parts industry look like? What do you think will be the key trends and major shifts? How will these changes impact manufacturing? In your opinion, what are some of the most exciting things to come?
Phillip:
The digitization of the supply chain should continue to bring efficiency gains in terms of procurement and supply. The emergence of the "Internet of things" and advances in predictive analytics should bring the potential for improvements in forecasting and demand management. However, the core functions of spare parts inventory management – understanding failure modes and sparing requirements, managing the inventory, and the physical logistics – all happen at a human level. This means that achieving major improvements is going to rely on the integration of people with the technology. Technology alone won't solve a company's problems. The exciting thing for me will be to see how companies that get this right, through training, education, and process development, can make even greater strides in spare parts inventory outcomes.
Follow this link for details on the book Spare Parts Inventory Management and a book launch special bonus