Topic area: Inventory Optimization Software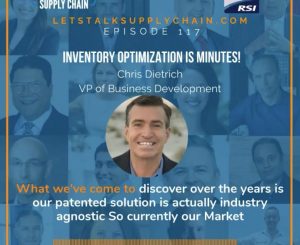 Listen in as Sarah Barnes-Humphrey, Founder and Host of Lets Talk Supply Chain interviews Chris Dietrich of Right Sized Inventory.
Right Sized Inventory (RSI) produces inventory optimization software that is powered by their patented inventory optimization technology. This to help companies optimize their spare parts inventory in minutes.
Their inventory optimization software is unique and they are an 'open book' in discussing how it works.
In this interview, Chris Dietrich, Vice President of RSI, explains how their patented software works and takes us through a case study demonstrating the results achievable.
Here are some time codes for the audio:
[00.40] The story behind RSI
[05.30] Data and real life simulation
[14.53] Managing your inventory
[19.12] Case study: Decrease inventory levels by 20%
[24.20] The future is collaboration
Right Sized Inventory is a member of the Spare Parts Alliance.
---
You might also be interested in this transcript of an interview we recently conducted with Michael Worden, CEO of Right Size Inventory.
---