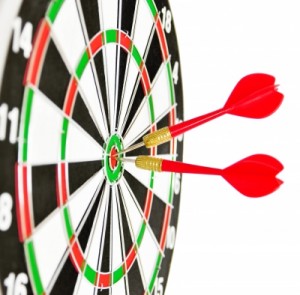 The idea of providing an inventory accuracy definition may seem a bit redundant – after all the word accuracy is understood and who doesn't want an accurate inventory? The purpose of providing this inventory accuracy definition, therefore, is to provide a useful inventory accuracy definition so that the actions required to maintain an accurate inventory should also be clear.
In practice there are two inventory accuracy definitions: Accounting Accuracy and Storeroom/Warehouse Accuracy
Accounting Inventory Accuracy Definition
The measure of total dollar value determined via a stock take compared to the total dollar value calculated in the inventory management system.  Accounting accuracy is not really concerned with variations at an individual item level, only at an aggregate level.
I hope that you can immediately see how this is of little value for an inventory manager. For inventory management you need to be concerned about the variations at an item level as this is where your operational problems are both created and solved.
Warehouse/Storeroom Inventory Accuracy Definition
What we need to concern ourselves with is accuracy that compares the actual count of individual items in stock to quantity recorded in the inventory management system.  Warehouse/storeroom accuracy is measured at an individual item level, no matter whether the in stock value is higher or lower than the 'system' value.  For example, if in a stock of 100 items, 90 items exactly match the quantity in stock with the quantity in the system, then the accuracy is 90%.  It doesn't matter whether the other 10% are up or down in comparison, it only matters that they are wrong.
Understanding that, from an inventory management  perspective, we need to be concerned with accuracy at an individual item level tells us that to maintain an accurate inventory companies need to be manage the data at an item level. This includes the quantity, stock code, and unit of measure for all inventory transactions.