Subject Area: Basic Training in Spare Parts Management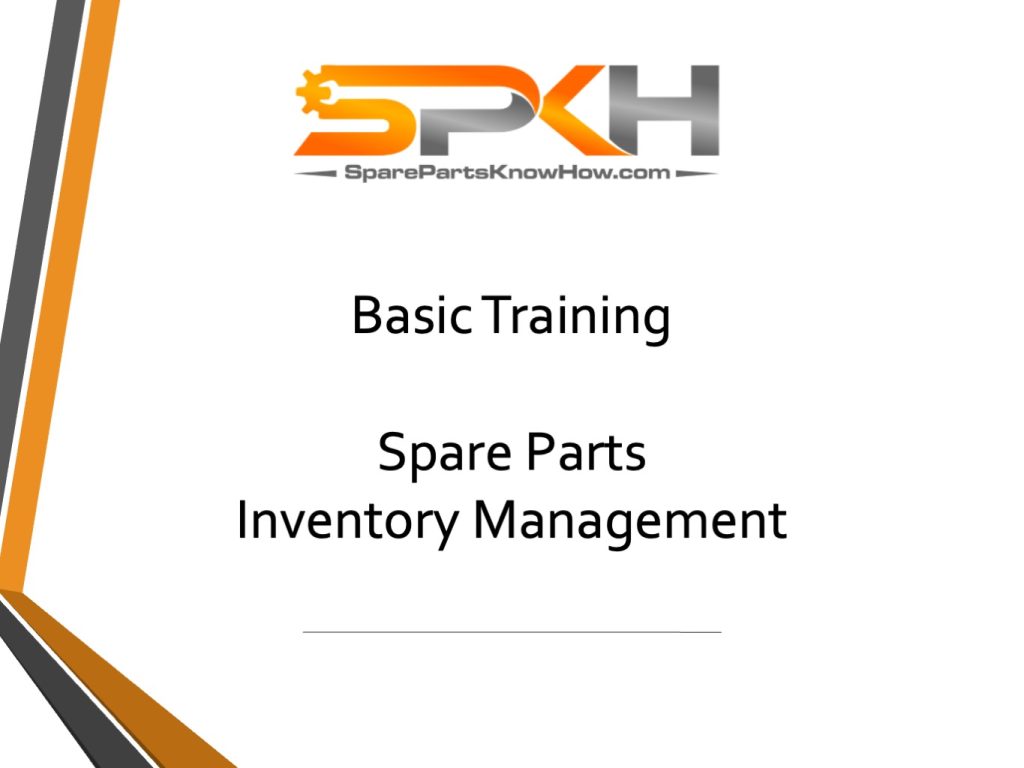 Learn the core know-how required to manage spare parts inventory.
Perfect entry level for people new to spare parts management.
Also suitable for those with experience who want to refresh or confirm their expertise.
Our Basic Training is a self-paced course that provides the fundamental know-how for people who are engaged in spare parts inventory management on a day-to-day basis.
This includes:
Storeroom & Warehouse Personnel
Spare Parts Management
Supply Chain
Procurement
Purchasing
Maintenance
Planning
Finance
Join the Basic Training Course
---
Managing the spare parts held for maintenance and operational support is unlike managing any other type of inventory because MRO and spare parts requires a different perspective.
---

Companies experience problems with their spare parts inventory because they unwittingly assume that 'the standard' inventory management tools and techniques apply equally to this type of inventory.
They do not.
This error of thinking is most common with people who are new to spare parts management or who have not undertaken specialist spare parts management training.
Without understanding this and the implications companies continue to experience:
Overstocking
Excessive obsolete inventory
Poor parts availability
Additional equipment downtime
These issues can be overcome once specific requirements and methodologies are understood.
The Basic Training Course teaches simple, effective, step-by-step strategies and tools to help you make better decisions and generate improvements in spare parts management.
Our content is:
'Real world', not theoretical or based on pointless statistical analysis.
Specifically applicable to MRO and spare parts inventory, not generic supply chain management.
Immediately usable – simple, clear, and useful.
---
Why complete the Basic Training Course?
---

Because this course teaches the very basics of managing spare parts inventory.
And without that insight companies will continue to experience problems.
By completing this course participants will understand the fundamentals of spare parts management, be able to identify critical spare parts and how to manage them, and how to set holding levels that are responsive to both the demand requirements and supply constraints – without confusing formulas.
---
SparePartsKnowHow.com Testimonials
---
This course opened my eyes to a lot of things.
Moses Padi
United Nations Support
SparePartsKnowHow.com is of a world class standard and suitable for any industry in the world.
Ernie Thaver
Sasol Mining
I predict that our stock reduction will be about 30% but the absolute figure is less interesting than the confidence that I have now that the stock that remains is moving and necessary in the current situation.
Andre Randsdorp
RIOR BV/Rioned
There is material here that you won't find anywhere else.
If you are involved in spare parts and materials for operations and maintenance you would be mad not to take advantage of this resource.
Adrian Hanrahan
Spare Parts Management Specialist in Oil & Gas
---
---

The Basic Training Course is focused on MRO and spare parts inventory – unlike most inventory management courses. Once you understand why this matters you are halfway to solving your problems.
The course is:
Self-paced
100% online
Available on-demand 24/7
Includes 4 lessons
Enables you to work through the content in 'bite-sized' chunks


Plus,

Because our online training has no fixed time or place, you don't need to wait until an event starts, or take the risk that you can't attend at that time
You just get started. It is as simple as that.
---
---

The training is provided in four lessons that are released sequentially – users cannot progress to the next lesson until they complete the current lesson.
The lessons address the four issues that are fundamental to spare parts inventory management:
Identifying what to stock

Our 'planning horizon', 7 questions, and identifying critical inventory approaches make it clear what you should, and should not, hold in your inventory.

Deciding how many to stock

Using a simple, clear, and immediately useable approach anyone can determine the right holding level in just a few minutes.

Identifying and implementing best practice

Through extensive research we have identified the 7 best practices that make a real difference to your results.

Minimizing disposal and obsolescence

With both 'first-time-buy' and 'end-of-life' management we show you how to avoid getting stuck with inventory you don't want or need
Each student has 3 months to complete the training.
This course also includes a 24-page workbook that:
Guides the user through the lessons
Includes places for notes and action planning
Contains all the course exercises
---
Watch the Orientation Video
and See How This Course is Organized
---
---
Recognition with a Course Certificate
---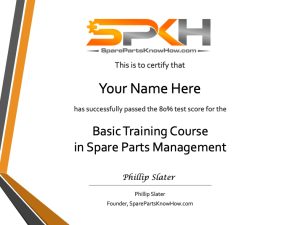 Successful completion of the course quiz results in recognition of your learning through awarding of the Basic Training Certificate.
The quiz includes 24 multi-choice questions.
A 'pass' result is 20 questions correct.
---
Download a copy of the Basic Training Course Training Plan. Complete this form and we will send you a copy.
---
---
---

A key feature of SparePartsKnowHow is our online training support.
This is clearly different to most training where time limitations mean you have little access to the trainer and their support.
Everyone who joins SparePartsKnowHow.com gets access to ask any questions they have relating to our content and the application of that content.
Tell us what problem you are trying to solve, and we will direct you to the right content.
How much more could you contribute to your company's success if you just had that extra insight into spare parts management?"
Phillip Slater, Founder, SparePartsKnowHow.com
---
'Peace of Mind' Option to Upgrade
---
For those who are unsure whether to join the Basic Training or our Advanced Course we offer our 'peace of mind' option.
If, after joining the Basic Training, you decide to upgrade to our Advanced Course, you can do that at any time during your Basic Training access.
When upgrading you then get 12 months of higher level access from the date of the upgrade.
This means that if you decide to upgrade after, say 2 months, then you still get a full 12 months of higher level access.
The upgrade investment is a flat rate equal to the difference between the Basic Level and the Advanced Course investments. To upgrade, use the link on the Orientation page after you join the Basic Course.
---
What Happens When You Join?
---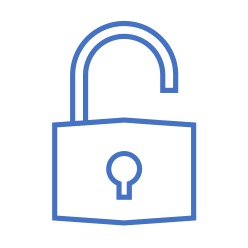 Course content is unlocked and available immediately.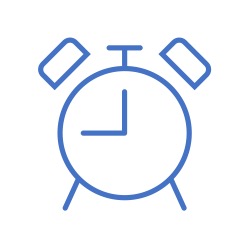 This course is delivered on a lesson-by-lesson basis. Once you complete one lesson the next level is instantly available.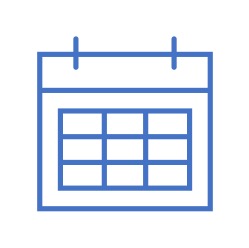 You get access for 3 months – allowing you plenty of time to complete the training.
---
Join the Basic Training Course
---
Please Note: The Basic Training Course will reopen for new registrations in March 2024.
Pre-register today and don't miss out on your chance for an 'early bird' enrollment with a reduced rate and an invitation to an 'early bird only' Q&A webinar with Phillip Slater.
The is no obligation.
You can pre-register using the form below.

<<< Existing registrations will continue their access to the course. >>>

Individuals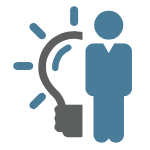 Please note: SparePartsKnowHow.com principally addresses inventory management for MRO and spare parts held for maintenance and operations support.
Basic Training Course investment:
a single payment of US$347.00 for 3 months access.
For peace of mind we use the secure payment system at Stripe.

We invite you to review our terms and conditions before signing up.

---
Want to Sign up the Whole Team?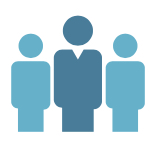 Contact us for special pricing and alternative payment options.
Please contact us to discuss.