Subject Area: Appropriate inventory settings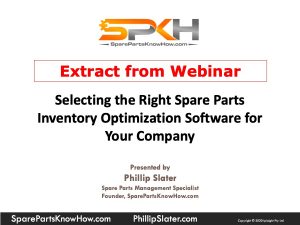 Traps to Avoid: Lesson 4
Be wary of using any form of weighted sorting.
This is where each feature is given a weighting in terms of the contribution to the overall performance and each solution is scored.
An overall score is then determined by multiplying the score by the weighting.
These processes often fail to provide the most appropriate outcome for two reasons.
First, the score can be biased to get the result we already want. So why bother using the method?
And second, the weighting may not truly represent embedded features that really matter.
For example, many solutions cannot accurately determine appropriate inventory settings because they cannot take into account all required supply chain factors – which are external.
In this case they can produce a number, but it will be a sub-optimal outcome. This capability may not be overtly expressed by vendors who don't feature this capability.
This spare parts inventory optimization trap is explained in this short video, an edited extract from a live webinar titled: Selecting the Right Spare Parts Inventory Optimization Software for Your Company
Run time: 2:10
---
For access to this video, and all of our content, join using the button below.
If you are already registered then you need to log-in.
---
---
For information on our Pro Level spare parts management online training please visit our Pro Level page.
---



Posted by: Phillip Slater