SparePartsKnowHow.com is an online subscription service that provides a comprehensive catalog of information, training, tools, and advice to help companies achieve their MRO and spare parts inventory management goals.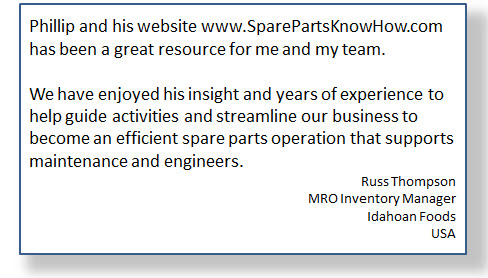 SparePartsKnowHow.com is designed to specifically support MRO and spare parts inventory management by:
Helping you take control of your spare parts management to reduce your working capital and increase availability with negatively affecting downtime.
Getting you quickly 'up to speed' with our video tutorials and webinars.
Increasing your up-time by reducing or eliminating emergency and panic orders.
Reducing or eliminating the time (and money) wasted on developing and implementing solutions based on trial and error.
Reducing or eliminating the expense of procuring items that you just won't need.
Improving plant reliability through enhanced spare parts management and maintenance.
Accelerating professional development for you and your team through regular webinars and a constant stream of new material.
Helping you realize the benefits of continuous improvement through continuing guidance, support, and updates on spare parts management.
Providing the convenience of 24/7 online access.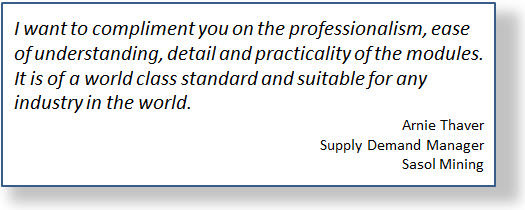 But there are two problems that stop companies from achieving their desired results:
1. Spare parts are different to other inventory types – almost all inventory management information is based on the supply chains associated with raw materials, WIP and finished goods.  But spare parts are different to other inventory types because they are used for equipment support.  This difference means that not only does their management require a different skill set but also that many of the standard supply chain techniques used for other inventories just don't work with this inventory.  Click here for more information.
 2. It's almost impossible to get information dedicated to spare parts management – until now. Try searching Google for information on spare parts management and you will be presented with: websites for software vendors, academic papers that you can't access, marketing material from various consulting companies, Wikipedia entries, conference advertisements, and forum groups of dubious origin with entries from 2008 – but no really useful information on spare parts management!  This isn't Google's fault; they just catalog what's out there.  The problem is that there is so much 'stuff' on the Internet – a query on spare parts stocking policy provides 1.8M links!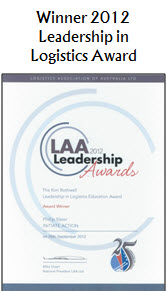 At SparePartsKnowHow.com we understand the differences with spare parts inventories because SparePartsKnowHow.com was founded by  Phillip Slater, an award winning specialist in materials and spare parts management and the author of 8 books relating to spare parts management and optimization with sales in 46 countries..  (Click here to see case studies from Phillip's work.)
Phillip's book Smart Inventory Solutions is the #1 ranked spare parts management book on Amazon.com.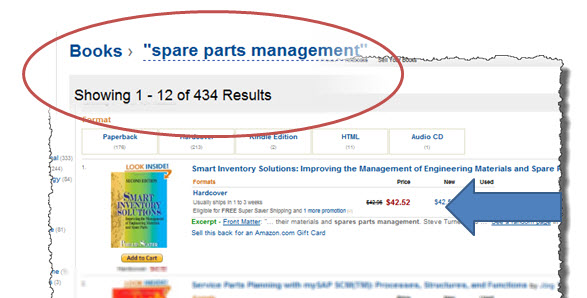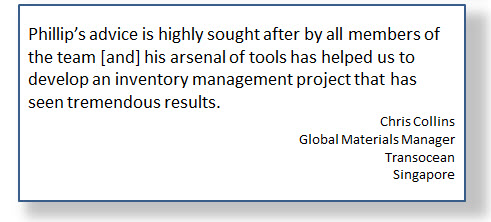 SparePartsKnowHow.com provides the information you need to get the results that you want in all areas of spare parts management:
Inventory management
Inventory optimization
Spare parts management policy development
Metrics and reporting
Storeroom management
Spare parts maintenance
Continuous improvement
Implementation
Project management
NEW!: Our latest addition is an online Re-Order Point Calculator
It is the focus on MRO and spare parts management makes this site unique. We provide access to information that is validated, reliable, and most importantly, practical.
Here are some key facts.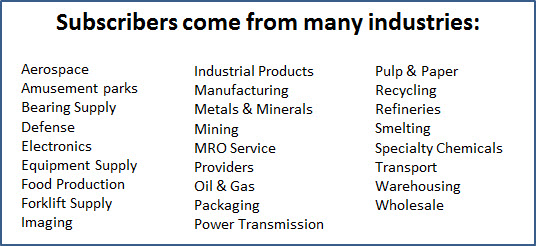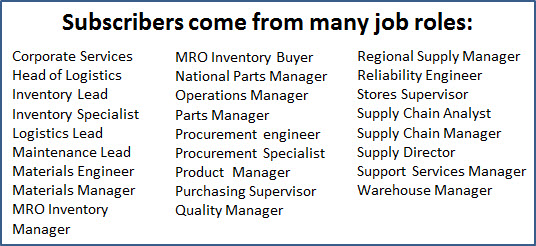 A SparePartsKnowHow.com subscription is like having a dedicated spare parts expert on your team!
Follow the links below for more information.



Additional Services Include





 For information on consulting services from Phillip Slater, the Founder of SparePartsKnowHow.com, visit www.PhillipSlater.com


SparePartsKnowHow.com is an initiative of Initiate Action Pty. Ltd.
Usage terms and conditions.
For more information please contact us via the Initiate Action website.