The website for those who want to know what works with spare parts inventory management.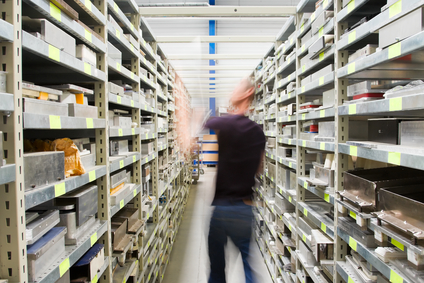 Get full access to all of our training and resources for just one low annual fee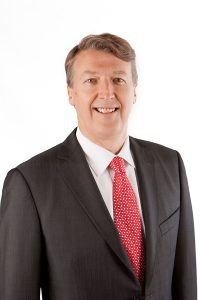 Hi, my name is
Phillip Slater
and I am the Founder of SparePartsKnowHow.com.
One thing that I have learned in my career is that spare parts inventory management and optimization brings together the diverse disciplines of maintenance management, inventory management, storeroom management, supply chain, procurement and logistics. This adds layers of complexity that aren't found with other inventory types.
Therefore, developing the know-how to manage this type of inventory requires specialist training and development not available with generic inventory training programs. That's why most companies spend more than they should on spare parts, yet experience downtime losses because the right parts are not available.
My vision with SparePartsKnowHow.com has always been to specifically provide you with all of the resources you need to develop your skills, and those of your team, so that you can reduce your working capital and increase your spare parts availability. In short, to develop a spare parts inventory management capability that you can rely upon.
Watch This Video to Learn More
(Running time: 2 minutes 30 seconds)
Start your journey by registering below for a free Basic Subscription and I will send you links to a three-part video series on achieving best practice spare parts inventory management (Don't worry, I know that you are busy so they are short videos.)
A Basic Subscription includes my regular newsletter featuring tips, articles, and updates on SparePartsKnowHow.com. Of course, you can unsubscribe at any time.
Train Your Team Without Travel Costs
SparePartsKnowHow.com provides everything that you need to develop skills and know-how in spare parts inventory management at a personal, team and management level. It doesn't matter if you are an individual that just wants to 'do better' or you are running a program covering a hundred sites worldwide, 24/7 online access means that you need not ever again pay travel expenses for training.
SparePartsKnowHow.com provides you with:
Online training courses
An extensive set of 'How to' videos
Online quizzes to test your know-how and track your progress
Templates and samples for a wide range of spare parts management policies
A stock level calculator
Storage guidelines
A 'Best Practice Self-assessment Tool' that helps you to work out where you need to start
And literally hundreds of articles and other resources
Click here to watch a video explaining the site content.
SparePartsKnowHow.com should be the central plank for every spare parts inventory management or optimization initiative.
Learn to Manage Your Spare Parts Like a Leader
Because I provide three levels of subscription I can help you learn how to manage your spare parts like a leader, no matter where you are now in our 'Stages of Excellence' (see the video at the top of the page).
1. Basic – Start here for access to a monthly article and updates via my newsletter. Sign up by providing your details above and to help you get started I will send you links to a three-part video series on achieving best practice. A Basic subscription is free.

2. Premium – If you want to develop your skills and make a real difference then a Premium subscription provides you with full access to all of my online training and resources, including my best practice self-assessment tool and all articles, how-to videos, online quizzes, resources, the entire blog archive, and training courses. Premium subscribers have access to content covering:

Inventory optimization
Inventory management
Policy development
KPIs, metrics and reporting
Storeroom management
Continuous improvement
Project management

Plus, if you have a team, ask my team about our special pricing for company premium subscriptions.

3. Leadership – This level is designed for the people who are leading initiatives in spare parts management at their companies or who aspire to be leaders in this area. Click here for more information on a Leadership Subscription.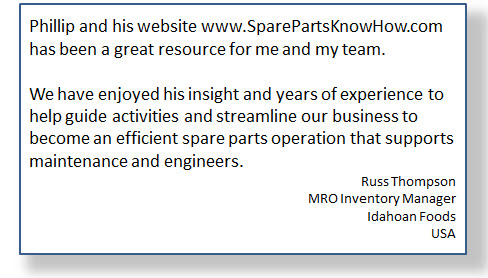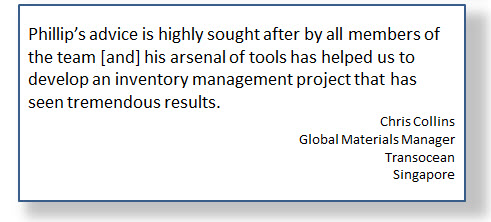 Sign Up Today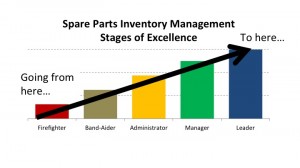 SparePartsKnowHow.com is designed for everyone that is involved in spare parts management: maintenance, inventory management, storeroom management  supply chain, procurement, and logistics.
I invite you to get started right now by subscribing to our free Basic Subscription.
Or if you are ready to take the next step in developing a spare parts inventory management system that you can rely upon then follow this link for more information on a  Premium Subscription. It is simple and easy.

Contact us for more information or visit our Frequently Asked Questions page.
For information on Phillip Slater, the Founder of SparePartsKnowHow.com, visit www.PhillipSlater.com
Also see Phillip's books on Amazon.com


SparePartsKnowHow.com is an initiative of Initiate Action Pty. Ltd.
Usage terms and conditions.
For more information please contact us via the Initiate Action website.