Superficially, achieving best practice spare parts inventory management looks simple because spare parts can appear to be just like any other inventory.  But the problem is that they aren't.  Spare parts inventory is different to other inventory types and this is why best practice (or even good practice) can be so hard to achieve.
The reality is that spare parts inventory management and optimization brings together the diverse disciplines of maintenance management, inventory management, storeroom management, supply chain, procurement and logistics. This adds a layer of complexity that isn't found with other inventory types.
As a result, most companies managing spare parts inventory end up with too much of some items, not enough of others. They are overstocked, yet under serviced. They spend more than they should on working capital while experiencing extended downtime that costs a fortune.
And that is why we developed this website, SparePartsKnowHow.com; to help people and companies solve their spare parts inventory management problems.
Watch This Video to Learn More
(Running time: 2 minutes 30 seconds)
For a free Basic Subscription complete your details below and as a welcome to SparePartsKnowHow.com we will send you links to a three-part video series on achieving best practice spare parts inventory management (Don't worry, I know that you are busy so they are short videos.)
A Basic Subscription includes our regular newsletter featuring tips, articles, and updates on SparePartsKnowHow.com. Of course, you can unsubscribe at any time.
At SparePartsKnowHow.com you get access to a wide range of practical 'know-how' on spare parts inventory management and optimization:
SparePartsKnowHow.com is a flexible as your need is specific
You can join up with one team member or bring on 100
Don't know where to start? We will show you.
Are you a sophisticated manager of spare parts? We will help you bring the rest of your team up to your level.
Already bought your software? No problem, we will help you to get the most from that investment
SparePartsKnowHow.com provides everything that you need for spare parts inventory management development at a personal, team, and management system level. It doesn't matter if you are an individual that just wants to 'do better' or you are running a program covering a hundred sites world-wide, SparePartsKnowHow.com provides:
Online training courses
'How to' videos
Templates/samples for a wide range of policies
A stock level calculator
Storage guidelines
and literally hundreds of articles and other resources
SparePartsKnowHow.com should be the central plank for any spare parts inventory management or optimization initiative.
In addition, we can support your spare parts inventory management and optimization initiatives with services ranging from online training through to a full suite of consulting services.
Whether you go it alone, want a little help, or need a lot of help SparePartsKnowHow.com provides the core content for your program.
How to Subscribe
At SparePartsKnowHow.com we provide three levels of subscription:
Basic – Receive regular tips, articles, and updates via our newsletter. Sign up by providing your details above (and as a welcome gift we will send you links to a three-part video series on achieving best practice)
Premium – get full site access, including our best practice self-assessment tool and all articles, how-to videos, resources, and training courses. (If you have a team, ask us about our company subscriptions.) .  Click here for more information.
Leadership - designed for the people who are leading initiatives in spare parts management at their companies or who aspire to be leaders in this area. Click here for more information.
Why You Should Sign Up For a Premium Subscription
Only Premium Subscribers have full access to our extensive database of material, addressing each of the key issues you face:
Inventory optimization
Inventory management
Policy development
KPIs, metrics and reporting
Storeroom management
Continuous improvement
Project management
Each section is segmented into 'Core Content' (the absolute 'must know' material for spare parts inventory management and optimization success) and 'Additional Insight' (for those that want to go beyond the basics). This makes it simple and easy for you to find what you need, when you need it. Follow this link to find out more: Premium Subscription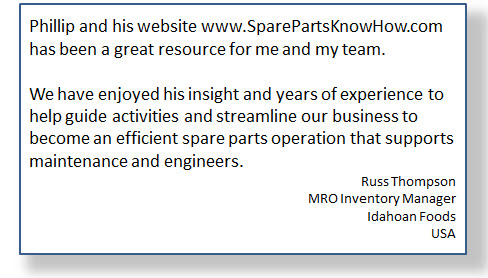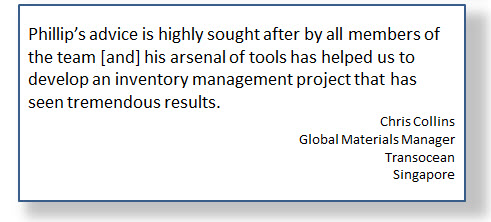 Sign Up Today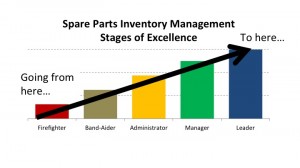 Ask yourself what you want your spare parts management to be in two years from now: less inventory, better service, and greater control?  Then consider what assistance you need to get there. SparePartsKnowHow.com can provide that assistance.
We invite you to get started right now by subscribing to our free Basic Subscription (and as a welcome gift we will send you links to a three-part video series on achieving best practice). 
Follow this link to sign up for a Premium Subscription. It is simple and easy.
Subscribing to SparePartsKnowHow.com is about becoming something. Its about being better equipped at dealing with inventory management problems and delivering superior inventory management results.
Contact us for more information.
For information on Phillip Slater, the Founder of SparePartsKnowHow.com, visit www.PhillipSlater.com
Also see Phillip's books on Amazon.com


SparePartsKnowHow.com is an initiative of Initiate Action Pty. Ltd.
Usage terms and conditions.
For more information please contact us via the Initiate Action website.