The Reliability and Maintainability Center (RMC) at the University of Tennessee, Knoxville has appointed SparePartsKnowHow.com as an approved training partner for its Reliability & Maintainability Implementation Certification (RMIC) program.
This recognition by the University of Tennessee means that anyone who completes the Spare Parts Management Certificate at SparePartsKnowHow.com, and registers through the RMIC program, will receive course credit towards gaining and maintaining their Reliability and Maintainability Implementation Certification.
The RMC exists to advance reliability and maintenance education and practices within the academic and industrial communities. The RMIC program provides the foundations of R&M knowledge and offers the flexibility to include specific training based on individual needs.  The RMC has designed the program for working professionals and gives the most practical maintenance and reliability education.
SparePartsKnowHow.com is a world-leading provider of spare parts inventory management training and, in keeping with the RMC's vision of educating working professionals, exclusively delivers its Spare Parts Management Certificate course online, with online coaching support.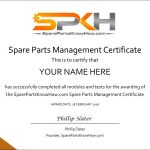 The Spare Parts Management Certificate is designed for people with an interest in the management of spare parts used to support maintenance and operational activities. The Spare Parts Management Certificate course covers everything required to develop the skills, know-how, policies and systems to maximize spare parts availability while minimizing the spare parts investment.


For more information please visit https://sparepartsknowhow.com/university-tennessee-certification/ or contact Phillip Slater, Founder, SparePartsKnowHow.com.