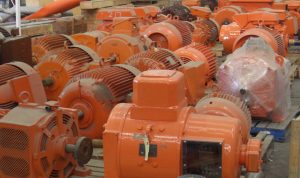 The management of rotable and repairable spares and assets is a critical function in all asset-intensive industries. In these industries downtime costs are usually massive, and in many cases these costs dwarf the repair or replacement value of the spares. However, this dynamic can lead to simplistic and ultimately expensive approaches to determining whether to hold or repair parts.

Defining Rotable and Repairable Spares
Companies involved in asset-intensive industries need to make significant repair-refurbish or buy decisions where either the items have failed in service or condition monitoring predicts imminent failure, and this decision-making process needs careful thought and documentation.
As a further complication, there are three types of items that these decisions apply to:
Repairable
Spare parts that through action can be returned to an "as-new" condition. Generally, these are not individually tracked.
Rotable
Items of plant and equipment that are periodically changed out for repair or overhaul. Probably tracked as assets in the CMMS.
Plant and equipment
The actual equipment on which the repair- able and rotable items are used. These will be treated by accountants as fixed assets.


What to Access All of Our Content?Click Here to Review Your Options


Three Documents For Managing Rotable and Repairable Spares
In each case a failure in service can result in a repair-refurbish or buy decision, and with so much at stake, decisions based solely on a percentage of replacement value are just not good enough. To ensure consistency of decision making and achieve the best production, engineering, and economic outcomes, asset-intensive companies need to establish a practical decision framework. The first step in the process to develop this framework is to identify and establish the criteria for the spare parts refurbishment decisions.
Establishing a robust 'repair or replace' decision system requires the development of three documents:
Guidelines

These are rules that will guide decision making.

Decision tree

A decision tree or flowchart helps people to understand the order and logic of the rules. Developing this flowchart is key to successful implementation of a robust policy.

A record of action

To test the quality of decisions and the guidelines in place, it is important to document the decisions for later review. This is essential for any program of continuous improvement. The format of this record of action will vary widely and so is not dealt with further here.
Establishing these documents and the decision-making criteria is essential for developing and implementing a robust and effective rotable and repairable spares management system.


For SparePartsKnowHow.com Members there is a comprehensive paper here that provides a series of 7 guidelines and a flow chart to assist with repairable management decision making.