The information and know-how required to effectively manage a company's spare parts operations does not reside in just one function
---
7. Transforming Your Spare Parts Operations Requires C-Level Engagement, Not Just Support
---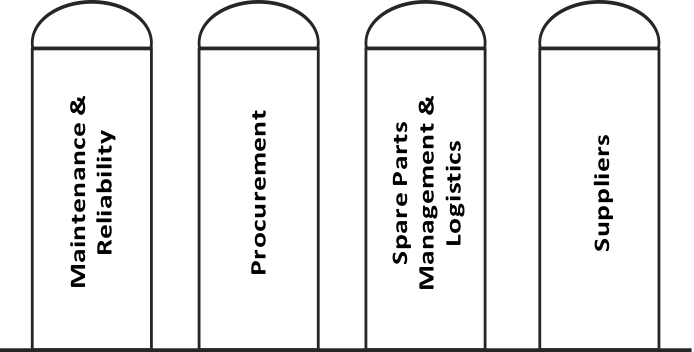 If you have read the preceding six parts to this series the reason why transformation requires C-level engagement (and not just support) should be obvious. I can sum this up in just three words: span of control.
What this series of articles has demonstrated is that the information and know-how required to effectively manage a company's spare parts inventory does not reside in just one function.
The key functions that influence spare parts outcomes typically operate independently, with little incentive to coordinate activities in a way that improves overall business results.
This is classically known as 'Functional Silos' because each function reports through to a different senior manager, has their own key performance indicators that drive their own effectiveness and efficiency, and effectively operates as though the other functions are parts of different organizations.


---
For access to this post, and all of our content, join using the button below.
If you are already registered then you need to log-in.
---
This series has been written to educate senior managers and CFOs so that their companies might achieve the results of which they are capable.
This series of articles has so far addressed the following issues:
Most of what you have learned about inventory management does not apply to spare parts
You will need to hold items that will not move often (if at all)
Excess spare parts inventory is a symptom of other problems
Spare parts management is fundamental to achieving your business strategy
Your profit relies on the day-to-day decisions made on spare parts holdings
How 36% of working capital spent on spare parts is wasted
You might be interested in going to the start of this series Part 1: Most of What You Have Learned About Inventory Management Does Not Apply to Spare Parts.


---
For information on our spare parts management online training please visit our Pro Level page.
---

Author: Phillip Slater