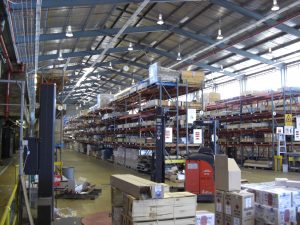 Recently I was running a three-day inventory management and review training course in Singapore when one of the attendees made a familiar statement. He said '
if we left this all up to maintenance they would want to stock everything like they are at Wal-Mart
'.
As I said, this is a familiar comment.
It doesn't matter where I go in the world I hear this concern. It's just the name of the store that changes. In some countries its Wal-Mart, in others it is Cold Storage, or Home base, or Home Depot, or Bunning's.
The intent of the comment is to say that some people want to stock everything so that the spare parts warehouse always has on hand what is required.
Some see this as a good thing because of the impact on availability. The people who make the comment to me see is as a bad thing as it would blow out the total value of the inventory that is held.
However, I can think of a couple of very good reasons why you SHOULD aim to stock your storeroom like Wal-Mart.

For Full Access All of Our ContentClick Here to Review the Options
Two Reasons Why You SHOULD Run Your Spare Parts Warehouse Like Walmart
These companies don't stock items that don't sell.

Think about that. While the businesses mentioned are in business to sell stuff (and you may not be) the key issue is that they only stock things that will turn over. If they don't sell, they don't get stocked. Or if they don't sell quickly, they don't stock many.

Of course, in a maintenance environment it is necessary to stock some items that don't move. However, my experience is that most organizations just stock too many of the things that do move. They also stock many non-critical items that don't move.

If you were 'stocking like Wal-Mart' you would regularly and ruthlessly review and rationalize your inventory on a regular basis.

Layout and Signage is Very Clear

The people at Wal-Mart et al, don't want you to feel lost when you go into the store. To achieve this they make it really easy for you to find what you are looking for. Aisles are numbered and banners above the entrance to each aisle tell you what the aisle is dedicated to (plumbing, electrical, etc.). Usually there is a sign at the end of each aisle telling what specific lines are stocked in that aisle.

Compare that to almost any spare parts warehouse. Here the typical complaint is 'I can't find anything'. Many spare parts warehouse are laid out in a way that only those already intimately familiar with the layout and locations can find anything. Wouldn't it be easier if we paid a little more attention to layout and signage so that even new team members could quickly and easily find items that they need?

How much time gets lost, in your operations, searching for items?
The result of These Actions at Big Retailers is Two-Fold

First, people come back because it is quick and easy. In a competitive market this is important. Of course, your spare parts warehouse has have a 'captive market'. However, the benefits of quick and easy access to the items that you need are obvious and will far outweigh the cost of getting the set up right in the first place.
Second, these stores have a much higher stock turn than any spare parts warehouse. According to their public reports the stock turn at Wal-Mart is 8.4. Most engineering stores peak at about 2.0 and many are lower than 1.0. Now I am not suggesting that you can or should seek to achieve a stock turn of 8.4 but let's face it, if you take a lesson from Wal-Mart, Home Base, Bunning's, Home Depot or Cold Storage, then your inventory is likely to be far better optimized than it is today.

Ready to learn more?Click Here


Author: Phillip Slater