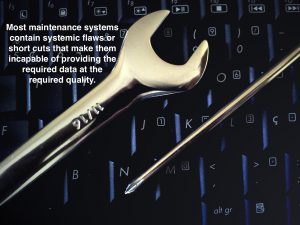 There is one great tension that comes from the different perspectives that people have on spare parts management benefits: people either focus on the potential working capital savings from reducing inventory or they focus on the perceived availability benefits of holding more inventory.
However, by focussing on these important but simplistic spare parts management benefits people often miss other benefits that come from improved spare parts inventory management.
Here are 5, little thought of, ways that improved spare parts management benefits maintenance and operations in asset-intensive companies:
1. Increased wrench time due to reduced parts shortages
Wrench time is a key indicator of labor efficiency with maintenance personnel. It makes sense that if you employ skilled people to perform key maintenance tasks, you prefer that they spend time doing those tasks rather than waiting around for the parts required to do the tasks. Improving the timely availability of spare parts has the potential to significantly improve wrench time.
2. Reduced downtime due to waiting on parts
In addition to not wanting your team to be waiting on parts, in the event of a breakdown, delays in parts availability also lead to extended down time. This doesn't mean that companies should over-stock their inventory on the basis that parts cost less than downtime. It does mean that they need proper management systems to ensure parts availability.


What to Access All of Our Content?Click Here to Review Your Options


3. Reduced rescheduling of planned tasks
Similarly to point one, few things are more frustrating than planning and scheduling a task only to have it delayed or incomplete due to the parts not being available. This is especially the case where production is shut down in order to complete the task. Of course, this issue can rightly be put down to a planning failure but there is no doubt that improved spare parts management can greatly assist planners in ensuring that the right parts are available at the right time.
4. Increased reliability due to better parts storage, maintenance, control, and availability
The reliability impact of parts storage and care is often overlooked as the effect is not immediately obvious. A part installed today where (for example) the rubber components have deteriorated may not fail for six months or a year. But if it was expected to last for 2 years then the downtime that occurred is a major avoidable expense. (Not to mention the labor and additional parts usage.) Poor parts storage, maintenance, and control often results from people keeping 'squirrel stores', where the parts are held outside of the company's storeroom and system for parts management.
5. Increased trust in 'the system'
Trust is a key factor in all management systems. If people don't trust that the processes in place will deliver the expected outcomes, then they will find work arounds that help then deliver what they see as important. With spare parts management a lack of trust results in over-ordering, hoarding, and squirrel stores. Creating a system that people trust means that they spend less time thinking about work arounds and more time doing what they are employed to do.
Of course the 'big two' benefits of minimizing financial investment and minimizing downtime will always capture the most attention but let's not forget these other spare parts management benefits that add real value to a company through increased productivity and reduced costs.